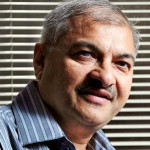 Prof Chetan Vaidya
Director, School of Planning and Architecture
We are still planning our cities the British way, where we make segregated use of land, says Prof Chetan Vaidya in an interaction with Gautam Debroy of ENN

What is your concept of Smart City in India?
Smart city idea should be part of overall goal of an urban development plan, which is sustainable and inclusive. But before that we have to remember that India does not live in rural areas any more. If you want economic development and jobs for the youths, we have to improve urban infrastructure and governance. Once we improve our cities and economy and address social issues properly, we can have the concept of inclusive, sustainable and smart city.
In fact, the whole concept of smart city should focus on planning that helps cities reduce non-sustainable consumption. If we consider water, huge supply pipelines and treatment plants have been constructed, but what is important is a focus on distribution. If we can bring down leakages from 40-60 percent to somewhere around 20-30 percent, then that will be an achievement.
In the smart city concept, the ICT-based solutions are extremely helpful. We can reduce non-revenue water (leakages), conserve energy and bill everybody who uses water. Here, the use of GIS and GPS linked to cloud sourcing and providing updated urban information will be of immense help.
We need a system where there is complete data on billing collection. With the help of modern technology, we have to make the water availability 24/7. Communication with the whole community through various apps is the need of the hour. In this context, "cloud-based technology" can come in handy, through which they can upload information to the central data system.
Ironically, our cities are still being planned in the British way, where we have segregated land use, like we have separate residential, office and commercial areas in three different locations. Here, we need to go back to the mixed land use where we can have all the three in the same area. Another issue is public transport system. We require metro, rapid transport, bus and auto rickshaw, and footpath for walking. And, all these could be linked to through the ICT.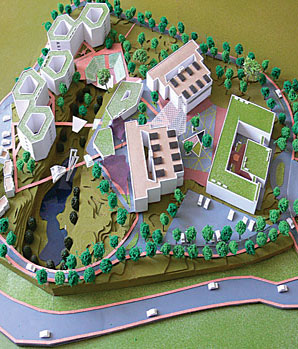 Don't you think that country's poverty and illiteracy could be stumbling blocks in implementing the idea of smart cities?
To me, Smart means technology-based efficient systems. Even a poor can connect through his mobile to the job market. If somebody based in Delhi can connect all the maid servants of Delhi in the job market, they don't have to depend upon the so called employment agents. If we can decentralise the ICT systems among young boys and girls, this could be an added advantage for them in the job market. Even a baby-sitter, who can read and write little bit English and has some information technology knowledge, will get an additional source of income. If we can use ICT for skill improvement, it will give us job scope and regular income. Similarly, ICT in the health sector can help improve lives of many poor people.
"I believe the NDA government's smart city programme will be the JnNURM in a new format – a reform-based investment programme entailing the latest technologies like GIS, GPS, etc"
You support creation of a smart city or an existing city being converted into a smart one?
The smart city concept should be relevant to the existing cities through retrofitting. Developing these cities into smart cities will be a cost-effective proposition. City is mainly an agglomeration of people from different locations. If an existing city can be connected with the ICT tools, it would become a smart city. New cities will certainly come up, but those will be fewer in number.
You represent the School of Planning and Architecture (SPA). What is the role of planning and architecture in a smart city?
At the city level, we have to change our mindset about land use planning and public transport. ICT tools should be the fourth infrastructure to the cities. And when we talk about buildings, all the buildings should be green buildings, which should be energy-efficient with proper space utilisation. All these should be part of our planning education.
What is your view about the agenda of the central government to develop 100 smart cities across the country?
When the party (BJP) put smart city in its manifesto, it was a fashionable term. But now they are practising the idea. I sincerely believe it will be Jawaharlal Nehru National Urban Renewal Mission (JnNURM) in a new format; it will be a reform-based investment programme entailing the latest urban technologies like GIS, GPS, etc. It will be a combination of all these systems.
For example, GIFT city in Gujarat. It's between two cities…between Ahamedabad and Gandhinagar. It's not an independent city. The state government is creating a centre of excellence between these two large cities. For me, it is an extension of the twin city concept and not a completely new city. But I believe that in future, the GIFT city would be the second financial capital of India. That way, Mysore Bangalore and Vijayawada-Guntur could also be twin cities.
Don't you think that a smart city can accelerate country's economic growth?
Sure. The smart city can really help us improve our Gross Domestic Product rate. We need to create jobs and for that we have to bring skill development besides having a good academic learning. ICT and technology tools can assist in improving urban skills.
How can technology and innovations be utilised in a smart city?
The word "smart" itself includes innovations. If we are talking about smart, which is technology based, we have to look up to the new technologies. It could be even, say, waste water disposal. Decentralised disposal of waste-water and its reuse is also an innovative technology. We are rediscovering the traditional technology. So, innovations and technology are linked to smart cities.
Would you like give any message for the national summit on smart cities being organised by Elets Technomedia?
It's a crucial event for city officials and for policy makers in the urban sector at the national, state and local levels. The technical people in e-governance as well as private sector must attend the summit as they will get to know divergent views of participants from across the country. I wish the event all success!
Click Here to Watch Interview Live
Click Here to Watch Prof Chetan Vaidya Speaking Live
Follow and connect with us on Facebook, Twitter, LinkedIn, Elets video