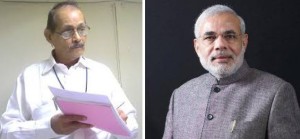 By Nirmal Anshu Ranjan

Jagdish Thakkar, has been appointed the Public Relations Officer in PMO. It signals that PM Narendra Modi will continue with his core team that served him in Gujarat. Thakkar  has served as PRO to Chief Ministers of Gujarat from the time of Amarsinh Chaudhary of the Congress in 1989 to Narendra  Modi.
Thakkar, a Gujarat Information Department Officer, has been Modi's point person both at his office and residence during Modi's reign as the Chief Minister. The 70-year-ld Thakkar is known as the shadow of Modi, always moving with him, remaining by his side also during the gruelling Lok Sabha election campaign. A journalist-turned-officer in Gujarat's Mahiti Vibhag (Department of Information), he  kept working for Modi even after his retirement from service in 2004.
Modi's CMO-plus approach is evident as he has chosen to continue with his core team that served him in Gujarat, even as a PRO will be a novelty in the PMO, where officers from the Press Information Bureau or hand-picked journalists have functioned as Press or Media Advisors, or recently Communications Advisor, to the Prime Minister.
Also Read: Gujarat focus sectors : Ports & Maritime
Much like Thakkar, most of the PM's aides had been working with him since he became Chief Minister of the state in 2001. Three of his personal assistants have shifted to Delhi and are living in Gujarat Bhawan. Om Prakash Singh, Tanmay Mehta and Dinesh Thakur – all three with their roots in RSS have the PM's ear but are known to maintain a low profile.
Another officer of the Indian Forest service, Bharat Lal,  has  earlier  served  as Resident Commissioner of  Gujarat in Delhi before being inducted as Joint Secretary in PMO. He will be the press contact in PMO, receiving and sending out press notes, but is unlikely to be the media spokesperson, deciding what to put be out in media. Known to be close to Modi and very driven, he was instrumental in bringing in some big industrial investments to Gujarat, including car maker Suzuki  Motors.
Modi is expected to continue to focus on Facebook and Twitter to connect with the masses. Hiren Joshi, 40, who helped him carry out a successful social media campaign during the LS elections, has also joined him in Delhi.
Follow and connect with us on Facebook, Twitter, LinkedIn, Elets video