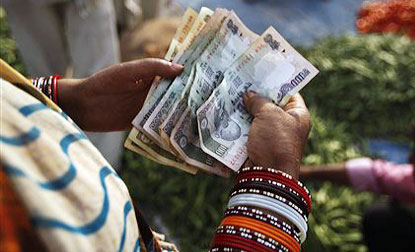 Prime Minister Manmohan Singh launched  Bharatiya Mahila Bank (Indian Women's Bank) in south Mumbai, home to one of seven branches that are now operational.
The bank was announced in February, when India was still reeling from the fatal gang-rape of a student in the capital.
It focuses on lending to women and aims to employ mostly women, although men will also be able to open accounts. Currently, only 26% of women in India have formal bank accounts. The setting up of the Bharatiya Mahila Bank is a small step towards the economic empowerment of women, said the Prime Minister.
UPA chairperson Sonia Gandhi, Maharashtra governor K Sankaranarayanan and chief minister Prithiviraj Chavan were also present at the launch. While this is the first such state initiative, there are existing co-operative banks run for and by women, such as the Mann Deshi Mahila Sahakari Bank in Maharashtra. According to its website, the Mann Deshi bank was set up in 1997 and is now the state's largest microfinance bank with over 185,000 clients.
The new Bharatiya Mahila Bank, headquartered in New Delhi, is due to have 25 branches by next March and is chaired by Usha Ananthasubramanian, a former executive director of the Punjab National Bank. Other directors of the bank include Chhavi Rajawat, Nupur Mitra, Priya Kumar, Renuka Ramnath and Tanya Dubash. Over a seven-year period, it plans to open 771 branches. The board of directors is made up of eight women, said finance minister P Chidambaram, who set aside Rs. 10 billion ($161 million) to capitalise the new bank in his 2013/14 budget.