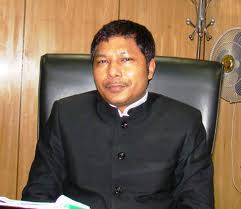 Dr. Mukul Sangma, Meghalaya Chief Minister launched the e-CST Service of the Taxation Department.
In his brief speech, Dr. Mukul Sangma lauded the effort of the Taxation Department for having moved a step ahead in upholding the objectives of e-governance. He said that it is the endeavor of the Government to ensure that the Taxation Department also leverage upon the new technology which will not only ease the problems of the people but will also ensure efficiency in the delivery of services.
It may be mentioned here that the main objective of the e-CST project is to replace the manual system of issuing of the statutory CST forms such as Form C, Form E-I, Form E-II, Form F and Form H by the electronic system. C-Form and other statutory forms that are currently issued in hard copy to dealers and sent in hard copy to accepting dealers can be electronically issued.
Electronic request and issuance of forms under CST Act through the online portal of the Taxation Department will encompass broad sets of functionality like enrollment of CST dealers with the Taxation Department for conducting inter-state trade, online request for C-Forms, provision of transaction ID to the applicant, verification of C-Forms documents.
The strength of this e-service is the simplification of cross verification process with Taxation Departments across the country, clean audit trail of subsequent verification, service delivery at the doorstep, reduces the requirement of physical interaction, increases revenue inflow and it is a robust and secured system making falsification and duplication impossible.