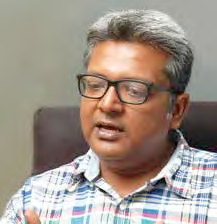 Samit Mitra, Senior Vice President (Sales & Service), Su-Kam Power Systems Ltd
Su-Kam Power Systems Limited is an India based power solutions provider with a presence in more than 70 countries. The company provides power backup solutions for both domestic as well as industrial markets, and its focus is on ecofriendly, inexhaustible energy solutions like solar power. Su-Kam has emerged as the biggest brand in its category in 22 countries, and we have sold our products across the world. Su-Kam has six operational units in the state of Himachal Pradesh, Haryana and also in Nepal. We are planning to start another manufacturing unit in Himachal Pradesh. The company also have its own battery production unit in India.
Rapid growth
With the present enterprise strength of over 1500 people, Su-Kam brought freedom from power problems to millions across India and in 70 countries across the globe. Two years ago inverter was our predominant division and it used to contribute almost 95 percent of the revenues. The share of inverters in our overall business has now gone down to 80 percent. Though the share of business in inverter division has gone down but in the last two years we have doubled our turnover. We have completed one year in automotive battery segment which is growing at a rapid speed. Automotive batteries and gen-sets are among the future growth plans of the company and the segment will contribute 25 percent in the overall turnover. Su-Kam has successfully accomplished and delivered number of government projects in the recent times. In year 2012 we have successfully executed a project of developing 1kVA (755 No) and 5kVA (29 No) Solar PCU and RTU (784 No) for one of the client to be installed in Madhya Pradesh forest department. With the installation of Su-Kam's Solar Power Conditioning Unit, the Madhya Pradesh Forest Department now has clean and green energy available for their remote offices, chowkies and range offices thus minimizing damage to the forest and natural resources. The Solar Power Conditioning Unit helps MPFD to protect the forest and wild animals in the forest.
Initiatives in solar energy
Su-Kam is the largest provider of Solar Powered backup Solutions in North East India. We have undertaken several key projects in coordination with various government authorities. Su-Kam has successfully installed solar powered backup solutions of the capacity of 700 KW which is one of the largest installations in the region. Assam Rifles project is a landmark project in the history of solar power projects at Su-Kam. The Assam Rifles Project required Su-Kam to supply, install, and commission and maintain 50 KW off-grid solar power plants at nine locations in Manipur and Nagaland, three locations in Nagaland and six in Manipur.
We have also worked with Tamil Nadu Energy Development Agency (TEDA) for a street lighting project. Under this project we have installed 500 Watt inverter with battery backup solution in the rural areas of Tamil Nadu.
Solar energy is going to play a major role in fulfilling the energy gap in the country. The Ministry of New and Renewable Energy (MNRE) is the nodal Ministry of the Government of India for all matters relating to new and renewable energy. Su-Kam is one of the channel partners of Renewable Energy division (MNRE). In Kerala, we have provided solar facilities to almost 10000 customers in five months with the involvement of Agency for Non-Conventional Energy and Rural Technology (ANERT).
State governments are also aggressive towards the usage of solar energy like Tamil Nadu, Chhattisgarh and Kerala. The Government of Tamil Nadu has issued a notification which makes it mandatory for commercial organizations to consume six percent of its power consumption through solar devices. We believe that as a private entity we can do it to a certain level and we feel that the government should popularize the usage of solar energy. Chhattisgarh is the leading state in the country which provides highest amount of subsidy to install solar rooftop solutions. In fact, there are only six states in India where per capita of solar conversion is highest which includes Rajasthan, Maharashtra, Chhattisgarh, Madhya Pradesh, Jammu & Kashmir, and Uttaranchal.