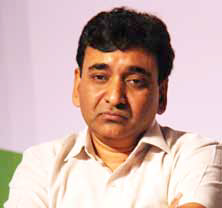 Rajesh Aggarwal
Secretary, Department of Information Technology
Government of Maharashtra
"Security is like a cat and mouse game. The criminals keep mastering new ways of breaking or bypassing the security systems, so you have to constantly evolve and upgrade your systems," says Rajesh Aggarwal.
UIDAI has brought a seminal transformation in the ways by which service is delivered to the citizens of this country. Please tell us about your views on how UIDAI is helping in verifying the authenticity of the beneficiary.

One of the most important aspects of the UIDAI is that it leads to the database to become more accurate. It is for the first time that different sets of databases in the country have started communicating with each other. Whenever we match any database with the UIDAI database, all the fake registrations get identified so that they can be removed. We have now ventured into newer areas where in we have linked our data with the database of various other departments  to verify the authenticity and credentials of people applying for various government certificates. The money that we save by removing the fake beneficiaries from our databases can be put to good use by increasing the scholarship that we provide to our students.
What steps are you taking in Maharashtra to use ICT for ensuring public safety? 
ICT is being used increasingly by the security agencies across the world and in our country for many purposes like detection & prevention of crimes, for surveillance, and for addressing issues regarding security in the cyber space. There are provisions in the IT Act where the offences committed in the cyber space are punishable. Every state government has the cyber cell department, under the police, for addressing all kinds of cyber crimes. We have also set up a network of CCTVs in the state of Maharashtra.In Mumbai, we are trying to install 6,000 cameras each interconnected with each other. We are also incorporating these cameras with facial recognition system. The entire project will cost `600 crore. People now use CCTV cameras to ensure safety of their home. It is a big and major upcoming market. In Mumbai many housing societies have already installed CCTV cameras.
What is your vision for online security for banking and credit card users in the country? What kind of system should we have so that the banks are not victimised by fraudsters and the interests of the common users are safeguarded?
I would begin by saying that it is in the nation's interest that the use of currency becomes less and less. We have to engineer a rise in the usage of plastic money, by which I mean credit and debit cards, net banking, etc. But while going electronic, you have to ensure that there is a well-designed security system in place for safeguarding the consumer's interests. The security system has to be balanced against the cost-benefit ratio. Across the world, banks basically take into account the amount of money that they are losing due to credit card or online banking frauds, and to protect such losses from happening, they invest in security. RBI has issued guidelines regarding international use of credit cards; it has been advised that banks should use chips rather than magnetic strips. All these systems have to be in place. Security is like a cat and mouse game. The criminals keep mastering new ways of breaking or bypassing the security systems, so you have to constantly evolve and upgrade your systems.
You have been instrumental in the implementation of many e-Governance projects in Maharashtra. In your opinion what is the most important factor in the success of an e-Governance project?
Capacity building has a major role to play in the success of e-Governance. Capacity building has to be improved in both the segments; adequate training has to be provided to both, people who are in governance and the people who are going to use the services. The next important aspect which we need to focus is digital divide, which is one of  the biggest challenges in implementation of any e-Governance project. We need to bring down the levels of digital divide; people in all sections of  society should have access to education facilities for gaining digital literacy. Also, we need to understand that no technology can deliver hundred percent results. So it is necessary to focus on the change management in the system.
Follow and connect with us on Facebook, Twitter, LinkedIn, Elets video