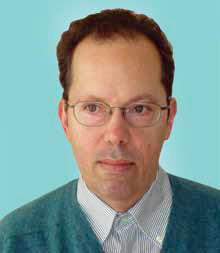 Jeff Gould
CEO & Director of Research,
Peer stone Research
"Our aim is to make cloud safe and secure for governments and other public sector units," says Jeff Gould
Today cloud computing is being used by all sections of society. Please tell us how SafeGov came intobeing? What is the genesis ofthe idea?
SafeGov was initiated by Office Managementand Budget (OMB) in the year 2009. We werecreated as a response for an initiative known asCloud First. The President of USA, Mr Obama,directed Vivek Kundra (The Then Federal Chief Information Officer) to come up with somethingdynamic and cost effective. In the year2010, Kundra issued a white paper constitutingof 25 initiative points for reforming federal IT.Cloud First was one of those initiatives. CloudFirst made it mandatory for any federal agencythat was considering any new IT investment toconsider Cloud as its first choice. It fixed deadline of mid 2012 for federal agencies to havetheir applications registered on Cloud.
What kind of response is the ideaof putting governance systems onthe Cloud receiving in USA?
Cloud is developing very quickly in USA. Clouds now being used by various global companies,schools and government agencies. The basicidea behind cloud is that you are putting yourapplications and software in somebody else'sdatacenters. You can rent those software andapplications instead of buying them from thoseservers. The principal benefit of the cloud is thatit saves money and makes it more cost effective.It is not just about saving money on your existingapplication, it also makes it much easier toswitch to a new application.
Some security related concern sare being expressed about cloud.What steps are you taking to address those challenges?
I agree that various government agencies,private companies and schools are concerned about privacy and security. But privacy and security are two different issues. Security really means that your data is not going to be stolen by somebody else, and it will not be leaked or destroyed. Privacy is different idea, as it is concerned with the personal data of an individual.We have identified two important aspects,technology and human which can breach into the security system. We have concluded that the single greatest weakness in the security of United States Government is not technological but human. Every organization in this world faces the challenges of human failure. The most common source of hacking of US government data are email phishing attacks. Two years ago,Gmail users in White House were hacked by Chinese attackers through phishing attack. The solution of these privacy issues is not technology,it is policy. The area where the issue of privacy arises is mostly with internet advertising companies like Facebook and Google. Their business model suggests that they target you with the advertisements after identifying your interest areas through accessing your personal information.
Today large numbers of internet users are from Asia. Most of these users could be unaware of privacy or security related issues. What can be done to safeguard their interests?
We know that in the coming future, most of the internet users will be from Asia. People here are usually not aware of privacy and security issues.The reason probably is that people are only recently discovering internet in these regions.But I am sure that soon people here will also become aware about privacy and security. They will demand from their government stringent laws which for safeguarding their personal information.

Have you developed any specific roadmap for India?
I think it is too early to speak about road map for India. But we know that Indian government has very ambitious projects for cloud computing.The first step which Indian government has taken is to introduce cloud computing in government owned data centres. Government can switch over to cloud instead of building services in their own data centres. We are aware that government has launched a tremendous initiative called UID. It requires large server in data centres. In long run it will create a revolution when these resources would be outsourced through private companies. We are very hopeful to increase our services in India as the number of smart phones users are increasing at a rapid phase. It will make people understand the need of privacy laws which will keep their personal data protected.
Follow and connect with us on Facebook, Twitter, LinkedIn, Elets video