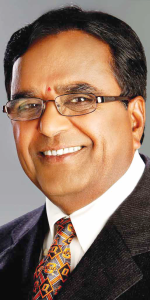 Ponnala Lakshmaiah
Minister for Information Technology & Communications
Government of Andhra Pradesh
"The government is only a facilitator. We can create good infrastructure and better business environment across the state, but ultimately it is for the companies to decide where they want to set up their units," says Ponnala Lakshmaiah. In conversation with Mohd Ujaley
Andhra Pradesh has emerged as the leading IT hub of India. Where do you position the state compared to other states?
Andhra Pradesh is not only the IT hub; rather it is also the state which has taken a lot of initiatives directed towards enriching the life of citizens. Our IT Policy and Industrial Development Policy are aimed at social inclusion and inclusive growth for citizens as well as industries. We are the country's second highest power producer (except for the last year) and our industrial power consumption is also ranked as the second highest, only next to Maharashtra in the country. Our per capita power consumption is almost 28 percent above national average that explains our position in the country. We are comparatively doing better than other states. In the last nine years, the per capita income has increased three times and also our food production has seen significant growth. As far as Information Technology is concerned, we are at the forefront of various IT & ICT initiatives in the country. Our IT industry crossed the mark of `50,000 crore turnovers last year. Due to the slowdown in international market, there has been a decline in growth nationally, however, we have been able to hold on and are still doing better compared to any other state in the country.
You have ICT Policy 2010-15 to pursue the promotion of IT and IT Industry to all regions of the state, but we don't see large project or big giants entering Tier-II or Tier-III cities.
Infrastructure development takes time. For example, five years ago Visakhapatnam was not as vibrant as it is today. The government is only a facilitator, we can create good infrastructure and conducive environment across the state, but it is the companies which need to decide where they want to set up their units. However, I agree, it is our responsibility to promote our initiatives across all stakeholders. In our ICT Policy, we have announced to set up incubation centres for SMEs to start their business in Visakhapatnam, Kakinada and Warangal. Now we are planning similar centre in Tirupati and shortly we will come up with one in Karimnagar. The boys from these areas are able to come to Hyderabad for work, but young girls are unable to do so for various reasons. I feel that there is a huge potential, talent and manpower in Tier-II and Tier-III cities. It is only a matter of time that companies will realise the economic viability of these areas.
Last year you got in principle approval of the IT Investment Region (ITIR). How has been the progress on that front?
Very recently, I was in Delhi as some minor issue had come up related to power sector in relation to ITIR. The clarification has been made. I think, very shortly the Cabinet will approve it. ITIR has gone through due process of clearance from 17 ministries, planning commission, secretary committee and now the Cabinet has to approve it. It is a very big project and Andhra Pradesh is the first state to come up with it.
Major projects such as SEZ have not yielded their expected results. Are you worried that ITIR may have similar fate?
Not at all, ITIR is a little different from SEZ. It faced problem due to the slowdown in international market as it is export oriented. Also the Government of India is rethinking on incentives and ways to re-energise SEZs. As a matter of fact, Andhra Pradesh has the largest number of SEZs in the country and we have done relatively better compared to other states.
Mee Seva has come a long way. Now it is being adopted by e-District MMMP projects. Please share some of the challenges of this project?
The challenge is to add more services so that citizens can access large number of services on one platform. One of the important elements of Mee Seva is that it provides employment to the youth and semi-skilled people. The more services you add and more kiosks you open, the more employment these will generate. By the end of the year, we would like to see a rise in the number of services, from the present 153 to 300 services. We are also working on Direct Cash Transfer and banking facility in rural areas through Mee Seva. Apart from Governemnt to Citizen (G2C) services, we are also focusing on Government to Business (G2B) services. There are various challenges at micro level, such as identifying the service and then bringing it into our framework and continue evaluating the performance of services under Mee Seva.
Please tell us about some of the major initiatives that you are working on.
In the last two years, we have taken few major initiatives and now they are being expanded. Hyderabad is a major centre for film production and we have a large number of animation, gaming and Visual Effects (VFX) companies. Initially they were not noticed, so we decided to encourage them and came up with a gaming, animation, media and entertainment park with an investment of `240 crore. Most likely we shall lay the foundation next month.
Another initiative is our Hardware Policy. We have proposed hardware cluster in the country. We plan to start with 1,000 acres of land with three hardware parks. The Government of India will assist in setting up infrastructure for the cluster with financial support of almost `500 crore.
We are also working on getting connectivity to rural areas. We have a massive plan of connecting 25,000 villages via fiber optic broadband connectivity. We have completed the pilot project in Parvada of Visakhapatnam. Moreover, we are spreading out 4G services to 82 towns and most of the areas in the state will be covered within a year. Already, work has started in Hyderabad, Warangal, Karimnagar, Vijayawada and Visakhapatnam.
This is expected to reduce the cost of data transfer and hence can be very easily available to people in rural areas. Once 4G services are available it will lead to improvement in e-Governance.
Follow and connect with us on Facebook, Twitter, LinkedIn, Elets video