It will help the government leverage cloud computing for effective delivery of e-services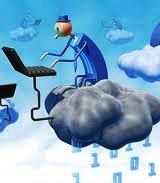 New Delhi: The Government of India has launched a national cloud initiative —GI Cloud—to help the government leverage cloud computing for effective delivery of e-services.
The project by the Department of Electronics and IT (DeitY) has beeninitiated to support the implementation of the National e-Governance Plan of India (NeGP) and aims to create a private cloud environment for the use of government departments and agencies at the centre and state levels.
According to DeitY, the adoption of cloud computing will accelerate the delivery of e-services to citizens, and support other objectives such as increasing standardisation, interoperability and integration, pooling of scarce and underused resources, and the spread of best practices.
Cloud computing provides tremendous scope of speeding up the development and roll out of e-governance applications while increasing government ICT efficiency.
A roadmap to GI Cloud was released by DeitY last week, assessing the ICT infrastructure currently in place in India and defining an implementation plan for GI Cloud.
The roadmap declares that cloud computing environments will be established at the national and state levels, starting with one National Cloud, using new and existing data centres.
The National Cloud will provide services such as computing, storage and network infrastructure, backup and recovery, and application development, supported by the State Clouds.
A GI Cloud Services Directory will be created to help public sector organisations find and subscribe to relevant services. The government's AppStore will host both cloud and non-cloud enabled applications which can easily be customised to meet the needs of different organisations.
The first step defined for the implementation of GI Cloud is the establishment of an 'Empowered Committee' to provide strategic and regulatory guidance to DeitY and other stakeholders. DeitY will publish guidelines and standards for the security, application development, service delivery, contract management, and pricing and procurement for GI Cloud.
The roadmap specifies that detailed studies of the existing infrastructure capacity at the government data centres and the requirement for infrastructure and applications need to be conducted for effective implementation of GI Cloud.
Follow and connect with us on Facebook, Twitter, LinkedIn, Elets video