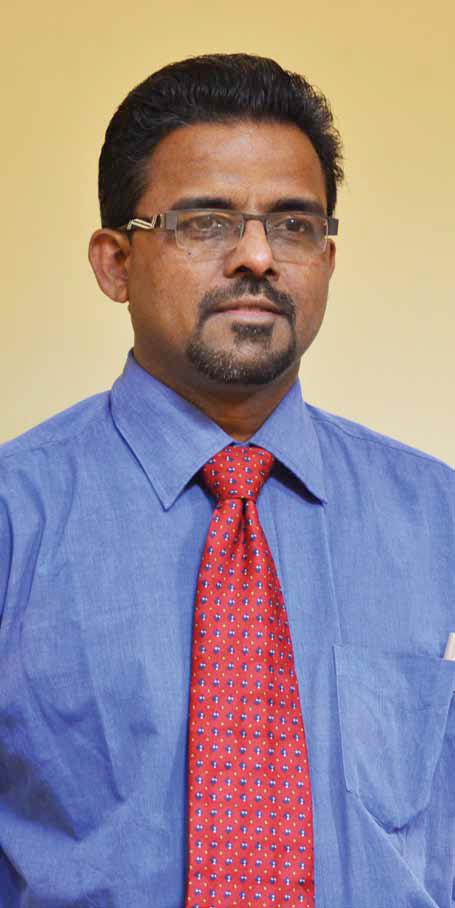 Aatul Wadegaonkar
Managing Director,
Rajasthan Knowledge Corporation Ltd (RKCL)
"RKCL is just not a business entity; it is a  movement for the good of the people", says Dr Aatul Wadegaonkar
Give us an overview of the work being done by   Rajasthan Knowledge Corporation Limited. What is your vision for the  organisation?
Our basic mission is to bridge digital divide,bring the common people closer to ethos and opportunities of knowledge society and knowledge-led economy and with a view to bring the real fruits of IT to the masses for survival, development and empowerment. Currently, we are providing quality vocational computer-related education to the masses. The education is being provided in a blended learning mode, in a very structured and evidence-based environment. In our current batch around 1.5 lakh learners are taking their training in our computer literacy course RS-CIT. The system of learning has been developed in such a way that it is possible for us to online monitor learning progression of each learner. This helps us to ensure that each learner is able to acquire the necessary skills. Our vision is to create a digitally-literate Rajasthan.
You spoke about monitoring the learning progression of each learner to find out the quality of learning that they are doing. What kind of monitoring is there? What aspects of education are being monitored?
All aspects of learning are being monitored. It is not just the marks that we are focussing on; we are also keen to identify the actual skills that the learner is picking up. In simulated e-Learning environment, the learner performs various differential and integral skill related assignments, the details of which get uploaded. Similarly learners are enabled to create society useful and productive outputs during their course of learning and a portfolio of what output they created is also uploaded.
Is the main objective of the kind of learning being offered by RKCL to make the learners job ready?
We are into developing courses that are connected with survival skills. For instance, computer literacy, financial literacy, English language proficiency courses, unless you learn it you are not going to survive in the modern competitive environment. It has nothing to do with direct employment but improving your employability skills. Wherever you want to get employed, even as a clerk, you must acquire these skills.
Tell us about the minimum qualification that is required for enrolling for the courses offered by the Rajasthan Knowledge Corporation?
The only qualification required is a strong desire to learn. Anyone can take this course, right from a 6 year-old child to an 80-year-old senior citizen. If an 80-year-old grandfather wants to connect with his granddaughter living in the USA, he has to be digitally literate. He must know how to read and write mails, chat, and use Skype and Facebook etc. The courses that we offer cover all kinds of needs of different categories of learners. We conduct Rajasthan State Certificate Course in Information Technology (RS-CIT) which covers MS Office,  Internet and Windows. We have Digital Saheli course, which is a course for the empowerment of rural women. It is focussed on teaching women the art of using computers and the Internet in their day-to-day life. RKCL is also offering courses on DTP and Tally. We also feel that a person should be financially literate. So we have a course called Personal Finance Management. Such courses make you a better qualified citizen. Our aim is to make Rajasthan financially and digitally literate.
RKCL Milestones
• Incorporated on April 25, 2008
• Business Operations commenced on January 12, 2009
• RS-CIT course (regular) launched on 12th January 2009
• 3 years of self-sustaining, wealthcreating and ever growing operations with social accountability
Many private players like Aptech and NIIT are also providing similar courses in all parts of the country. How is Rajasthan Knowledge Corporation Limited  doing it differently?
Rajasthan Knowledge Corporation Limited is a Public Limited Company established in Rajasthan as a joint venture of Government of Rajasthan; Maharashtra Knowledge Corporation Limited (MKCL), Pune; University of Rajasthan, Jaipur; Maharana Pratap University of Agriculture and Technology, Udaipur; Vardhaman Mahaveer Open University, Kota; Rajcomp Info Services Ltd. and Centre for e-Governance. Today RKCL has a franchise network of 2,000 centres across the state. No one else has such a huge network. We want to deliver hi-tech high touch education to the masses. All other players have a district-level presence, whereas our presence is up to the block level. The fee structure for our courses is also very low; it varies between Rs.2,300 to Rs.3,000. Our courses are evidencebased and our e-Learning framework is designed to ensure implementation of high-tech with human touch; appreciation to imitation then from imitation to emulation; from emulation to self-expression; from self-expression to selfconfidence and from self-confidence to selfesteem approach to ensure guaranteed learning. All other frameworks lack on this front and are instructor driven , where learner are taught and it is assumed that essential skills are imparted.
What kind of response are you getting from students?
The response has been tremendous so far. We have trained more than five lakh learners in just four years. Last year, we trained about 1,32,000 people and this year, we have already trained more than 3,00,000 people. We are expecting the numbers to cross 4,50,000 by the end of this financial year.
How many of these have got scholarships?
Eighty percent of the students pay for the course and the remaining twenty percent students' fee is either subsidised or paid by Government.
IT Literacy
RKCL launched a state-wide IT Literacy drive in the form of Rajasthan State Certificate in Information Technology Programme – RS-CIT in January 2009
We have a digital divide in all the states of the country. The digital divide is especially palpable in the rural areas, which are lagging behind the urban areas. Are you planning to have more knowledge centres in the rural areas?
RKCL launched a state-wide IT Literacy drive in the form of Rajasthan State Certificate in Information Technology Programme – RS-CIT in January 2009. This programme is implemented across the state through a private-public-partnership (PPP) network of about 2000 IT Gyan Kendras (ITGKs). This has emerged as the single largest network of the IT Training Centers in the whole of North India. Our policy is to extend our reach up to block level. On this front State Government is also helping us by providing office space in Bharat Nirman Rajiv Gandhi Kendra and sponsoring various programmes. The Government programmes are being implemented at places that are less financially viable. However, the good thing is that most of our centres are becoming financially viable.
Many students tend to join computer literacy classes just to improve their employability. Have you done some research to find out if the students from RKCL were having better job prospects?
9,000 youths in the state got direct employment while 15,000 youths in the state got indirect job opportunities in this network at their own native places. However, as I said earlier, our focus is to bridge digital divide,bring the common people closer to ethos and opportunities of knowledge society so that they are better equipped to survive in the modern digital world.
What steps are you taking to promote the Rajasthan Knowledge Corporation so that more students come to know about it?
We release newspaper advertisements every month. We have a franchise network and district offices in every district. All these centers are being run by private entrepreneurs they also locally propagate the brand RKCL. We also go to schools and colleges to spread awareness about our courses among students. We also regularly organise awareness camps about our courses.
Running company like RKCL must be fraught with challenges. Tell us about main challenges that you have faced in the past few years?
Challenges are obvious in a network of people. We have 2,000 centres, 33 district offices and 10 programme support agencies and our total staff is 15 only. We are able to manage our sprawling network with such limited staff by making use of cutting edge technology. Ours is one of the few companies of the state where every transaction is online. This culture of online transactions has been implemented in record time in our network. This shows that the people of Rajasthan are very open to adopting new technology, if it is presented in the right manner. I would also say that creating the right type of learning environment at each center and making center understand that we are just not a business entity; but a movement for the good of the people is the biggest challenge.
What kind of vision is required from a person to be a managing director of RKCL?
Since RKCL is a network for masses, the Managing Director should be completely connected with the ground realities. We have to be in touch with the network. We to have regularly travel across the state meet centers to communicate vision and mission of the company, share the best learning and business practices with them.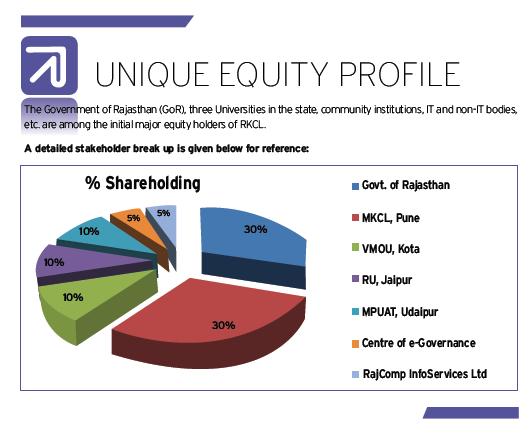 Follow and connect with us on Facebook, Twitter, LinkedIn, Elets video