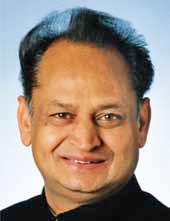 The State Government is committed to providing transparent and effective governance to the citizens of the State. The common man is the focus of our programmes and schemes. We have launched a number of flagship schemes in the recent past for the welfare of the common man.
The flagship programmes aim at the development and social security of the common man through schemes like Free Medicine Scheme, Janani-Shishu Suraksha Yojana, Ann Suraksha Yojana, BPL Affordable Housing Scheme, and Rajasthan Guaranteed Delivery of Public Services Act ( RGDPS) – 2011. Under the RGDPS Act, various services of the State Government are to be delivered in a time bound manner to the citizens. Similarly, the Right to Hearing Act 2012 provides a right to hearing to the common man.
We believe that e-Governance is the key to good governance. Keeping this in mind, we have earmarked 3% of the state's plan budget for IT / e-Governance initiatives. As a result, a number of IT initiatives have been taken. These include computerization of Mines and Geology Department, Rajasthan Public Service Commission, Roadways, Transport Department, Medical and Health Department, e-Sugam for registration and redressal of public grievances, and Finance Department.
We are aware that ICT can only be harnessed if appropriate capacity for technology absorption is built. The 'supply side' of e – Governance ecosystem has to become at par with the 'demand side'. We have taken steps for capacity building of government personnel across the State. The results of this have been heartening. Rajasthan has recently won laurels at the National level for its e- Governance projects like CSC/e-Mitra, IT enablement of the Rajasthan Public Service Commission, delivery of digitally signed certificates and capacity building within the Government domain.
As an e-Governance progressive State, it brings us great pleasure to share that the Government of Rajasthan is the Host Partner to the eGov Knowledge Exchange Forum 2012, which is being held in the historic city of Udaipur. I wish the Forum a resounding success

Follow and connect with us on Facebook, Twitter, LinkedIn, Elets video