The enablers use it for smart e-Governance to make a difference.Techno Brain is the company to watch out for…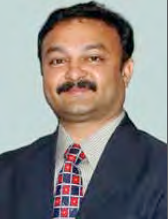 Anand Mohan
Managing Director, Techno Brain
This new paradigm has brought about a revolution in the quality of service delivered to the citizens. It has ushered in transparency in the  governing process; saving of time due to provision of services through single window; simplification of procedures; better office and record management; reduction in corruption; and improved attitude, behaviour and job handling capacity of the personnel.
Various Private Players  recontributing greatly to bring in e-Gov in the best possible way. Techno Brain is one of the companies where e-Governance is a very large focused initiative. They provide a suite of modern, innovative and comprehensive e-Government solutions that provide services for effective and smart governance. Techno Brain works with Governments and departments to come up with effective solutions and behaves as a single-window solution provider. Typical solutions are for different departments and services of government namely: Public Grievances, Police, Biometric security, Social Services, Public Information, Land Registration, Financial Management, Enrolment processes, Automation of day to day operations ,Utility Payments / Billing, Commercial, and typical Government requirements such as e- Procurements, tender managements.Large overlays, clarity in governance vision and commitment characterise the success parameters of e-Governance projects. One such project which enhanced transparency and accountability is Techno Brain's Financial Management System for a Municipal Corporation.
A Municipal Corporation was facing challenges in streamlining its financial operations. Their original financial systems were developed at a time when department accountability was the primary focus. But over the years, incompatible and disconnected applications led to a whole host of operational inefficiencies.To overcome these challenges, this municipal corporation engaged Techno Brain India to implement a Financial System that integrated systems across all of its different departments, including finance, revenues, engineering, public health, treasuries, town planning and audit.
After implementing the new system for financial management, the corporation is now well-positioned for future growth and provide better citizen-centric services. Thus, e-Governance is a huge opportunity to re-invent how governments can work to reach every section of the society and companies like Techno Brain leave no stones unturned to make a difference. The company's core focus since inception remains providing solutions to enable local and state governments to deliver better citizen-centric services.In addition, Techno Brain is also offering customised solutions to NGOs and other private organisations. In a candid conversation with company's Managing Director Anand Mohan said, "We, at Techno Brain believe that e-Governance is about understanding government domain, bringing about a cultural change and using technology as an enabler to help governments achieve better performance." He also added, "I am proud of what we have achieved so far, but we have a long way to go." Our primary objective is to provide solutions that will  help governments to bring in transparency and value addition to the citizens." Besides customized solutions,
Techno Brain India has also developed various IT products, such as:
MEsure: This is Certified for Microsoft Dynamics product for project monitoring and evaluation and can be used for both public sectors and NGOs.
InspireHRM: This is also Certified for Microsoft Dynamics product and can be used for Human Resource and Payroll functions by any organization.
SecuRegister: This is a multi-modal biometric system to manage data and associated identity functions.
Follow and connect with us on Facebook, Twitter, LinkedIn, Elets video