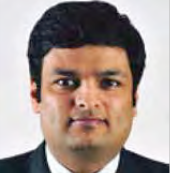 Kaustubh Dhavse
CEO-eGov, Spanco Ltd
"Spanco's e-Governance business unit is focused on citizen services and government modernisation programmes that create an efficient Government-to-Citizen Interface. The business unit brings rich experience in managing complete lifecycle of the project by working in close association with the government"

Please shed light on the e-Governance landscape in the country?
A key concern for the government is to enforce systems that will streamline inefficient and cumbersome governance process. One of the major breakthroughs in the last few decades is the shift in vision from government-centric governance to Citizen-centric governance. The ICT industry has played a critical role in shaping the citizen-centric model to reach out to a billion people. The effective use of ICT services in government administration has significantly enhanced existing efficiencies, driven down communication costs and increased transparency in various departments. The ambitious National e-Governance Plan (NeGP) has laid the foundation to provide the impetus for long-term growth of e-Governance in the country. The core infrastructure and Mission Mode Projects under NeGP is to ready the mechanism for modernisation of government departments.
You have been working with Government of Andhra Pradesh in running and managing the eSeva,now called Mee Seva,since 2008. How has your experience been?
Andhra Pradesh has been a frontrunner in executing ICT solution at grassroot level. It is one of the first states in the country to set up citizen servicedelivery centres providing multiple citizen services under one roof. It is the first state in India to design a state-wide comput erisation programme covering all levels of the administrative spectrum from the smallest (the Mandal Revenue Offices) to the largest and most complex offices. It is this relentless and untiring effort which makes Mee Seva service delivery a benchmark in citizen-centric governance in the country. An integrated technology solution for better governance can be successful only if it delivers results to citizens and the state government has achieved this distinction. A wider accept- ability and higher IT adoption level makes Andhra Pradesh an attractive destination for executing ambitious and large scale projects.
Tell us about Spanco's competencies in e-Governance?
Spanco has built an independent business unit focused on creating, managing, operating and delivering citizen-centric services. The competency lies in creating an efficient Government-to-Citizen Interface by delivering citizen-centric solutions, providing technology infrastructure services, developing web and mobile based application along with citizen enrolment and telemedicine. Besides extensive domain expertise, we bring rich experience in managing end-to-end projects by working in close coordination with the government. We have developed expertise for implementation of citizen-centric initiatives which will allow successful integration with other government initiatives including NREGA, UIDAI,Financial Inclusion, Healthcare and Education. Spanco has grown in leaps and bounds over the last decade and truly mirrors the Indian growth story. Some of our landmark projects include Mee Seva in AP, CSCs in Maharashtra and Punjab, UIDAI in MP, Haryana, Maharashtra and Punjab, Modernisation of Transport Department in Punjab and Mobile Banking for SBI, Canara Bank and J&K Bank.
How has Spanco contributed in improving the scale, size and citizen expectations at Mee Seva Centres?
Spanco, which took over the operations in the year 2008, has improved service delivery by way of bringing better technology solution, connectivity, uptime,efficient delivery model, flexibility to add several services at a given time, deliver short-term and long-term government initiatives in the state and manage citizens that throng these centres for availing critical G2C and B2C services under one roof.The solution adopted by Spanco was to create infrastructure that can scale the service portfolio, add new requirement, meet the increasing demand of the citizens, reduction on transaction time, improve counter efficiency, increase capability of revenue collection, efficient payment gateway for the citizens and business to state government and manage immediate rollout of government plans anytime in the year. The innovation applied by Spanco for success of Mee Seva is a result of constant feedback collected internally and externally as well as creating delivery system with futuristic approach. Spanco's solution platform has been successful enough to provide uninterrupted service to the masses.
Follow and connect with us on Facebook, Twitter, LinkedIn, Elets video