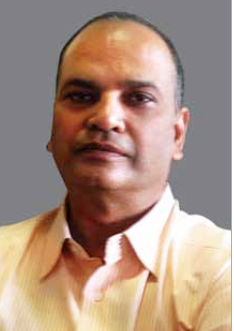 Shailendra Kumar Joshi
Principal Secretary, Irrigation and Command Area
Development Department, Govenment of Andhra Pradesh
"Better irrigation systems in the state are leading to vast improvements in farmer incomes," says Dr Shailendra Kumar Joshi  in conversation with Nayana Singh
While urban  areas in the country continue to progress, the rural areas where most farmers reside are mired in poverty. What is your vision for improving agriculture sector in the state of Andhra Pradesh?
As of now about one lakh acre area is being rrigated in Andhra Pradesh. The Government of Andhra  Pradesh has taken up a massive programme called 'Jalayagnam' for improv- ing irrigation in the State.  Once this project is completed, about one lakh acre will be added to the existing acreage. 84 projects  have been taken up at a cost of `1,85000 crore. In the last six years, we have spent `65,000 crore in completing 21 projects partially, while 12projects have been fully completed. It is one of the largest  investments in rural infrastructure which will bring lots of benefit to the farmers and rural economy.
In many western countries IT technology is being used to monitor and optimise the flow of water for irrigation. To what extent are we using  ICT to optimise irrigation for farmlands in Andhra Pradesh?
We may not have started using ICT directly in irrigation and for flow monitoring, but we are using technology in a number of ways. For instance, we are now getting the inputs regard- ing reservoir status through SMS. We are also using technology for managing RNR (Reha- bilitation and Resettlement). RNR is a very important component of irrigation projects. Technology is being used to bring efficiency to the  process by which the social survey is done for identifying the beneficiaries of RNR. The entire information is kept online, to have more transparency and efficiency. The thing is that ICT technologies require very little maintenance and are very cost effective. As of now wehave not started implementing technologies like flow metres, but in a few years, we will be having all that in place.
At the ground level what kind of impact is happening from the improvements in the agriculture sector? Are we seeing any rise in farmers' incomes?
Better irrigation systems in the state are leading to vast improvements in farmer incomes. Two small projects in Nizamabad district have led to `2,500 crore additional income coming to the farmers. By this only we can judge how well the impact will be if all the irrigation projects get  implemented. Irrigation has to be given importance as about 60-65 percent of the nation's population depends on agriculture.
In your opinion, if we can have more efficient irrigation in the state then what sort of improvement it will lead to agricultural output of the state?
See water is the most basic human need. It is not only required for agriculture or irrigation. It is, in fact, a pre-requisite for over all development of the state. From drinking water, to irrigation water, agricultural industry, for gen- erating power, it is difficult to conceive of life without water. We have to learn to conserve water. In agriculture also, water must be used efficiently. We have to develop better ways of  cultivation, there have to be shifting crop patterns. We are doing all we can to provide water at lowest possible rates to our farmers. Water  rates are already quite low in the State of Andhra Pradesh.
Follow and connect with us on Facebook, Twitter, LinkedIn, Elets video