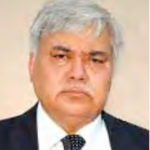 R S Sharma,
Director General & Mission Director,
UIDAI, Government of India
Since Aadhaar was launched with the objective of providing residents with a pan- nation identity, thereby making it easy to verify an individual's identity, it is only logical that government departments and even private entities utilise the Aadhaar identity platform to deliver benefits/services to residents.
The debate regarding plugging leakages in the existing service delivery mechanism has been a long-drawn one, with many options, including cash transfers being mulled as an alternative to the existing system. Let us take the example of the subsidy regime that is prevalent at this time in our country to understand how Aadhaar can transform the way various services reach the common man. The only way the first problem i.e. elimination of duplicates and fakes can be solved is to have a unique identifier for each person in databases of government agencies that administer respective schemes. If we can ensure that any person in these databases has only one number (Unique ID) that is not dependent on how he spells his name or address, but his biometric attributes, then we can ensure that there will be no duplicates and fakes – provided it is made mandatory that all such per- sons give their Unique IDs (Aadhaar). Having established that the databases are clean, let us look at how Aadhaar can be used to route benefits into the hands of the correct beneficiaries. Let us examine the case of direct transfer of LPG subsidy—something which is under the active consideration of the government.
A consumer needs to give only his Aadhaar number (and not the bank account details) to the LPG dealer. Also he will need to provide the Aadhaar number to his bank for linking it with the account in which he wants to receive the LPG subsidy. His bank links his Aadhaar number to his account. This will ensure that when a bank receives the subsidy to be pro- vided to the holder of a given Aadhaar number, the bank will transfer it to this account. The bank also sends this Aadhaar number to National Payments Corporation of India (NPCI). NPCI, working under the RBI, functions as a hub in all electronic retail payment systems which is ever growing in terms of vari- eties of products, delivery channels, number of service providers and diverse technology solutions. NPCI maintains a table (called Mapper), which has Aadhaar number and the Bank ID (called BIN number). Now the direct transfer of subsidy operates as follows.
When a consumer receives the LPG cylinder and the receipt is authenticated, the subsidy transfer is triggered. As a first step, the sponsor- ing bank of the Oil Marketing Company (the bank which has the funds), sends the Aadhaar number and the amount to the NPCI. This hap- pens only in respect of those consumers whose accounts are outside the sponsoring bank. For those whose Aadhaar linked bank accounts are in the sponsored bank, the subsidy transfer does not involve NPCI. NPCI, after receiving the file from the sponsoring bank, sends the payment advice to the concerned bank where beneficiaries hold their accounts. As NPCI knows the bank ID for a given Aadhaar, it hap- pens without any problem.
In case the bank to which the payment has gone finds that there is no corresponding bank account for a given Aadhaar, it returns the error message to the NPCI which, in turn provides the error details to the sponsoring bank. As all this happens electronically and automatically, there is no delay in these messaging systems. This method of funds transfer is described as Aad- haar Payment Bridge (APB) as it uses Aadhaar number and NPCI as a bridge to connect the two databases, the beneficiary database (with the service provider – OMCs in our case) where the transaction is emanating and the bank accounts database which is kept with various banks.
Thus Aadhaar-based Service Delivery tackles the twin problems of duplicate/fake entries in databases and diversion of funds. Already many State Governments and Central ministries have shown keen interest in utilising the Aadhaar identity platform for delivery of services. Aad- haar Enabled Service Delivery initiatives have been launched by Hon'ble Prime Minister on October 20, 2012, in line with the budget speech of 2012-13 for rolling out the same in 51 districts across the country.
Key benefits of using Aadhaar for service delivery
Higher scalability of services with online authentication, allowing the service agencies to use multiple channels for service delivery.
Reduced beneficiary harassment and bribing due to reduced dependency on manual processes.
More efficient service delivery process. Reduced cost of identity establishment.
No need to submit physical copies of identity documents. Reduced risk of identity theft associated with physical documents usage.
Electronic audit trail can be created allowing service agencies to audit their service delivery process more effectively.
Some of the ongoing pilots that are being run to prove how Aadhaar can be used in bringing about a positive transformation in public ser- vice delivery are as below:
Financial Inclusion Pilot in Jharkhand
The first Aadhaar application pilot was started in four districts of Jharkhand—Ranchi, Hazaribag, Ramgarh and Saraikela-Kharsawan in December 2011. Money was transferred by the Jharkhand Government directly to the beneficiaries' Aadhaar-linked bank accounts under various programmes—MNREGS, Old Age Pensions and Student Scholarships, to avoid leakages happening due to intermediary involvement. In order to resolve the problem of access to last mile banking services, business correspondents (BCs) from three banks carried micro-ATM devices in the vil- lages, which enabled the residents to make bank- ing transactions, including withdrawal, deposit, balance enquiry, etc. after Aadhaar biometric authentication. Similar projects are in various stages of rollout process in 51 districts.
PDS Pilot in Andhra Pradesh
This pilot was initiated by Consumer Affairs, Food and Civil Supplies Department of Andhra Pradesh in the East Godavari district on 1st September 2012. The objective of the pilot was to curb leakages in the Public Distribution System by using Aadhaar Biometric Authentication. The pilot was targeted for around 35,000 households with around 1.25 lakh target beneficiaries across 47 fair price shops (FPS) in the East Godavari district. The ration card numbers of beneficiaries were linked to their Aadhaar numbers. Under this pilot, subsidised ration (rice, palm oil, pulses, sugar) was provided to beneficiaries after Aadhaar biometric authentication. Around 45,000 ration deliveries made    during the first month of the pilot. This pilot had very high biometric authentication accuracy, which was a positive indication regarding success of UIDAI's authentication platform.
LPG Delivery Pilot in Mysore, Karnataka
This pilot was initiated by the three Oil Marketing Companies—IOCL, and BPCL and HPCL in January 2012, in collaboration with the Ministry of Petroleum and Natural Gas. The objective of this pilot was to use Aadhaar Biometric Authentication to minimise diversion of subsidised LPG cylinders. The target consumer base for the pilot was around 85,000 beneficiaries, across three LPG distributorships (gas agen- cies) in Mysore—one each for IOCL, BPCL and HPCL. Subsidised LPG cylinders were delivered by delivery boys after successful biometric authentication of any family member present in the household. Around 50000 deliveries have been made so far. The next phase of pilot would scale up operations in the entire district, as well as have the subsidy amount difference being transferred directly into banks accounts of  beneficiaries, with the LPG cylinder operating at market price, thus eliminating the incentive to divert subsidised cylinders.
Common problems which currently exist in the subsidy domain
Existence of multiples and fakes in the beneficiary databases resulting in leakages of subsidies etc. (e.g. ghost ration cards in PDS)
Diversion of goods to unauthorised purposes (e.g. Diversions of domestic LPG cylinders for industrial usage) again resulting in leakages etc.
Pensions Pilot in Aurangabad, Maharashtra
This pilot was initiated in Aurangabad in September 2012 for disbursing pensions under five special assistance schemes which are operational in Maharashtra—Sanjay Gandhi Niradhar Anudan Yojna, Shravan Bal Old Age Pension, Indira Gandhi National Age Pension Scheme, Indira Gandhi National Widow Pension Scheme and Indira Gandhi National Disability Pension Scheme. The objective was to directly transfer monetary benefit into the bank account of pensioners using the Aadhaar Payments Bridge. Aadhaar number was linked to the list of beneficiaries to eliminate fake beneficiaries. Aadhaar Enabled Payment System was used by Banking Correspondents to disburse funds through micro- ATMs. The savings of government funds due to this pilot is estimated to be `7.7 crore, and the estimation of probable savings to the Government of Maharashtra is estimated to be `350 crore.
Considering the fact that large percentage of people in India still depend on government benefits and services, it is imperative that a clear identification mechanism of beneficiaries is created. As we move towards a digitised service delivery scheme, need for an online verifiable identity is clear to ensure benefits are truly targeted to those who deserve. The ability to digitally establish individual unique identity and further authenticate the beneficiary during service delivery will be critical to achieve the expected result. Through the Aadhaar Identity Platform, the existing service delivery mechanism can indeed be reformed.
Follow and connect with us on Facebook, Twitter, LinkedIn, Elets video