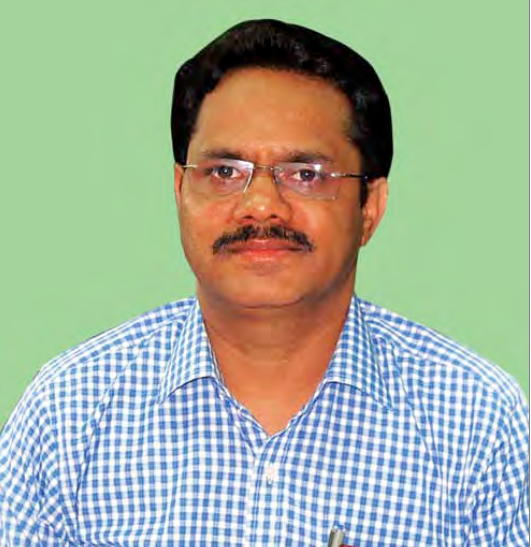 B Venkatesham
Managing Director, Andhra Pradesh State
Housing Corporation Ltd (APSHCL)
"We have a comprehensive portal called HOMES. Technology utilisation is done through this software and everything can be seen online," says B Venkatesham, Managing Director, Andhra Pradesh State Housing Corporation Ltd (APSHCL), Government of Andhra Pradesh, in conversation with Sunil Kumar and Nayana Singh
Please tell us about the initiatives from Andhra Pradesh State Housing Corporation Limited (APSHCL) to provide housing facilities to needy families?
Set up in 1979, the APSHCL started building houses from 1983 onwards and till now we have completed 1.7 crore housing units across the  tate. In the recent years especially from 2004 onwards, the construction work gained momentum and around 60 lakh units were completed in eight years during 2004-12. Work on another 11 lakh houses are in progress currently. Still there is a need to build around another 22 lakh houses to provide shelter to all and make Andhra Pradesh a hut-free state. Andhra Pradesh will be the first state which would achieve shelter for all in times to come.
Can you tell us about the sector specific housing projects which have been implemented in rural areas?
Under this 'Housing For All' or 'Shelter For All' scheme, we are also concentrating on specific segments like bidi workers, SC, STs , weavers, fisherman, and those who cannot afford to construct their houses. So these segments are being concentrated and also extra provisions are made for them over and above what others get. For example, we are getting `15,000 more for constructing work-sheds apart from regular housing, fishermen getting `20,000 more than others, SC/ST persons in rural areas get `20,000 more and in urban areas they get `30,000 more  than the other beneficiaries. So, that is how we are supporting these segments.
How many people in the state have been benefited with the APSHCL initiative—directly or indirectly?
As I told earlier about 1.7 crore houses have already been completed. So, apart from these direct beneficiaries quite a good number of others have benefited from the scheme indirectly. They include people engaged in brick making units, centering units, door making units.
What are the technologies that you are using to construct stronger houses at much cheaper rates?
Basically Andhra Pradesh Government created a concept called Nivritri Kendra, way back in 1980's. The Nivritri Kendra develops cost-effective technologies. It also develops eco-friendly technologies using steel and other items to minimise use of wood and other items to reduce the cost of construction.
Will you elaborate about the Nivritri Kendras, which supplies building materials at subsidised rates?
At Nivritri Kendras, we supply false brick, walls, door frames, window frames and also give the roof panels and any other support that people want. Basically Andhra Government has a facilitator approach rather than a provider approach. We assist people in constructing their own homes.
Tell us about the e-Governance initiatives that the organisation has adopted to bring efficiency in its working?AP Housing Corporation has been using ICT in a very big way. We have a comprehensive portal called HOMES. Technology utilisation is done through software called HOMES and there everything can be seen online—the beneficiary, the stages of houses, how the house would look like and data about each and every individual beneficiary is available there. All the payments are done online. The beneficiary opens the bank account and we transfer the amount in their accounts online. We have now started more ICT initiatives like SMS system wherein the beneficiary will get the payment released from the APSHCL after every stage of construction without routine inspection of the  zite. Besides, we are also thinking of using geo tagging of the photographs so that any mischievous works and activities can be reduced to negligible level.
The various schemes being implemented by APSHCL are as follows:
• INDIRAMMA
• Rachabanda
• Flood Housing
• Indira Awaas Yojana (IAY) in rural areas
• Beedi Workers Housing in Rural and urban areas
• Integrated Housing and Slum Develop-ment Programme (IHSDP)
• Jawaharlal Nehru National Urban Renewal Mission (JNNURM)
• Weavers Work Sheds
• Other schemes, as and when sanctioned by the state government
Follow and connect with us on Facebook, Twitter, LinkedIn, Elets video