"Using resources in a smarter way boosts innovation, a key factor underpinning competitiveness and economic growth," says Dhamodaran Ramakrishnan, Director, Smarter Planet Solutions, IBM India/South Asia, in conversation with Nayana Singh
---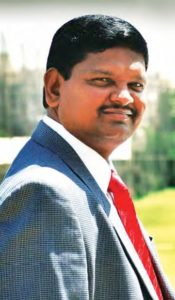 Tell us your concept of Smarter Planet?

Huge amount of data is being captured today as never before. It encompasses everything, from large, systemic patterns—of global markets, workflows, national infrastructures and natural systems, to the location, temperature, security and condition of every item in a global supply chain. At IBM, we want intelligence to be infused into the systems and  processes that keep daily activities going across the world. We want to cover everything, including those which no one would recognise as computers, viz cars, appliances, roadways, power grids, clothes, even natural systems such as agriculture and waterways. Companies, cities and the world in itself are complex systems-indeed; rather we can define them as systems of systems. Increasing the efficiency of these systems and helping them to become more instrumented, intelligent and interconnected requires a profound shift in management and governance toward far more collaborative approaches. IBM's Smarter Planet strategy is all about taking the petabytes of new data that gets created every day and mining that for insights to build competitive advantage.
What is a Smarter City?

In a Smarter City, technology is optimally used to transform the core systems and optimise the return from largely finite resources. Using resources in a smarter way boosts innovation, a key factor underpinning competitiveness and economic growth. Investments in smarter systems also ensure sustainable employment. More than half of the people on Earth live in cities, and the urban population worldwide is projected to double by mid-century. Smart use of technology helps in transforming the core systems. It can help create an efficient transport management system, improve healthcare facilities and develop a robust communication network to connect all businesses, people and systems. In the next 20 years, every minute 30 Indians will leave rural India for urban areas. At this rate, India will need some 500 new cities in the next two decades. By 2050, it is estimated that urban population will constitute nearly half of the total population in India. The smarter the cities become the better it will be for humanity.
What is IBM Intelligent Operations Centre for Smarter Cities?

Cities around the globe face emergencies that require real-time communication and collaboration across departments and agencies each and every day. Unfortunately, critical information is often stored in multiple disparate systems. This hinders situation awareness and makes it difficult for various departments to coordinate response efforts. A city may fail to warn citizens of danger or rescue people quickly without a single, integrated view of a crisis and the ability to share  information. IBM Intelligent Operations Centre for Smarter Cities provides a unified operational intelligence and insight and a single view of all city services which help in the prediction of events and its subsequent quick response. It helps cities, government agencies, and enterprises to optimise operational efficiencies and improve planning.
---
IBM's success stories in India

Saving Lives through Tsunami
Warning System India had no advanced early warning system in 2005, when tsunami had claimed about 18000 lives and displaced about 650,000 people. In the Bay of Bengal, floating across hundreds of  nautical miles, are about 1800 small buoyant sensors, which record wave height, speed and changes in ocean current. These sensors transmit the information to a satellite, which relays to the Indian National Centre for Ocean Information Services in Hyderabad, helping it alert  coastal towns to the likelihood of any tsunamis. Put in place by IBM, the system can send out alerts 2-3 hours before catastrophes strike. Right from helping fishermen in the coastal zones in the country with better yields and optimizing fishing time to predicting storms, earthquakes and serving as tsunami warning system, Indian National Centre for Ocean Information Services or INCOIS is leveraging technology provided by  IBM to offer ocean-related intelligence that has a very critical societal and business impact.
Creating Smarter, Energy-Efficient Towers
The tower companies are the second largest users of diesel in India. Bharti Infratel, Airtel's tower arm runs about 33,000 out of 400,000 towers in India. IBM's sophisticated technologies monitor diesel usage in these towers and also sends out a real-time alert when any tower goes down. IBM does the asset management in real time for Bharti Airtel in  India, which in turn, improves energy efficiency, and makes our cities more sustainable and green.
Towards Smarter Grid

A new generation of solutions that capitalizes on instrumented, interconnected and intelligent capabilities is emerging and can be applied against virtually any of a city's core systems. Further, they can help illuminate the interactions among different systems, giving leaders better understanding of what's happening in their cities and allowing for more effective action as a result. For instance IBM, is installing a smart grid at Malta — a group of islands in the Mediterranean sea — which will integrate both water and power systems and be able to identify water leaks and electricity losses in the grid. IBM is intent on using information technology to create many such 'smart grids' all over the world, including India.
Bridging the Divide – Spoken Web

The Spoken Web technology is designed especially for those who have little or no literacy or are visually impaired; get the benefits of the World Wide Web by creating a parallel system similar to the Internet. This voice enabled technology enables physically challenged people to have access and share information, do business transactions, or create social networks by creating "VoiceSites" through their mobile or landline phones.
---

How IBM is enabling this smarter transformation across the world?
Over 2,000 city projects leverage on IBM to help them transform into 21st century cities. For instance, smart metering in Malta helps citizens pay only for the energy they use. Predictive analytics helped slash Richmond's crime rate by 40 percent in one year. In Taiwan, 99 percent of smarter trains run on time. Data analytics helped reduce crime up to 35 percent in NYC. In downtown Stockholm smart traffic systems helped reduce gridlock by 20 percent. Amsterdam Airport Schiphol move 20 million more bags every year with a smarter baggage system. Peak energy loads fell by 15 percent when IBM helped homes in the Pacific Northwest talk straight to the grid. All these real life examples reflect the efficiency of sophisticated analytics. Underneath this runs a complex pattern of insights leveraging discreet flow of information, anticipating problems, coordinating resources like a cognitive system of a living organism.
What are the various IBM Solutions for better outcomes in Smarter Cities?

We believe in adopting a holistic, collaborative, proactive, engagement-driven approach in evolving smarter cities and enabling citizencentric services through the use of sophisticated technologies. This include Smarter Buildings (Schools, Hospitals, Homes, Office & Plants and Energy, water, waste, emissions management), Smarter Public Safety (Emergency response and communications, Digital video surveillance, crime analytics), Smarter Water Management (Water infrastructure management, Resource planning optimization), Smarter Government Services (Social services, citizen and business interaction and Case management, visit optimisation), Smarter Transportation (Road user charging, congestion pricing and Integrated fare management, traffic prediction), Smarter Energy Management (Smart Grid, Electric Vehicles, Renewable Energy and Intelligent Utility Network Communications & Security), and Smarter Cities – Operations Centre (Improved services, operations, safety, sustainability, Incident Mgmt, Domain Correlation and Emergency Response,Citizen Dashboards).
Follow and connect with us on Facebook, Twitter, LinkedIn, Elets video