RFID is demonstrating huge versatility in terms of its ability to bring efficiency to the transportation sector
Nayana Singh, Elets News Network (ENN)
Radio-frequency identification (RFID), a technology which was unveiled at the time of the Second World War, has captured attention of many across the world. The introduction of industry led global RFID standard has resulted in an increased acceptance of this technology across several industries globally. The fact that RFID technology is in sync with present day business needs such as fast operations, tightened security, and effective management, makes it an apt technology for adoption. Transportation, a sector on which the Government of India is planning heavy investments, provides wide scope for the  implementation of RFID. The technology enables data to be transmitted from a micro silicon chip at very high speed and without the need for line of sight (applicable for barcode technology). Thus, RFID is an established  ata-carrying and automatic identification technology used throughout industry.
How does it work?
Data relating to an item is stored on an RFID tag, which remains attached to the item. The tag is a data carrier in itself. A barcode carries data in a visible symbol and is read by a barcode scanner using optical or infrared wavelengths. An RFID tag carries data programmed into a small computer chip and operates at a wide range of radio frequencies. The tag is activated by radio waves emitted from an RFID reader. The reader communicates  wirelessly with the tag across what is known as the air-interface. Once activated, the tag sends data stored in its memory relating to the item back to the reader. This data can  then be used within and between organisations and trading partners in a secure manner via the EPC global Network.  RFID technology can be can be used in vehicle identification. Various transportation companies are using tags on  ehicles to locate them when they arrive at the sites.
RFID in transportation

Department of Electronics & Information Technology (DeitY) has its focus on  the R&D areas of RFID and is engaged in providing RFID based techno solutions to the Indian industries. With this objective, the ambitious "National RFID Program" project was initiated  in April, 2007. The program was implemented jointly by IIT, Kanpur, C-DAC, Noida and SAMEER, Mumbai. As discussed above, RDIF technology can cause a tremendous impetus to the transportation sector. Subsequent to a recommendation by a committee chaired by Nandan Nilenkani, the Ministry of Road Transportation and Highways, has decided that all the toll plazas in the  country will be equipped with RFID solutions.  Railways, being a key element of transportation deserve special attention. The railway board has approved the enclosure of pilot project for using RFID technology for the automatic identification of wagons. The pilot project is to be implemented on the Waltier – Kirandul (KK) line of East Cost Railway. Almost 1000 wagons are to be tagged and trackside readers are to be placed at various locations, along with handled readers at major yards and loading uploading points as parts of the pilot. On the successful completion of the project, it is planned that the system will be expanded to tag all the wagons, and place readers at all major station yards. RDIF technology is also being used by the government bodies in India to promote e-Governance in various sectors and localities. Recently, the Thiruvananthapuram Corporation in Kerala has been sponsored by the government to fund an RFID initiative connecting the company to all nearby households in the city. In order to understand the full scope of RFID technologies, we interacted with a host of solution  roviders, who have given us their valuable inputs on the various issues that lie at the core of the RFID industry.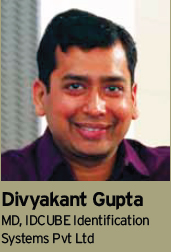 Secure and Efficient Solutions from RFID
"We have developed certain specialised solutions for valuable dossier tracking and storage especially for defence and government sector," says Divyakant Gupta, MD, IDCUBE Identification Systems Pvt Ltd
IDCUBE is into using RFID technology for physical access control, Secured credential management, Cashless payments, Ticketing, Asset Authentication & Tracking in various verticals such as corporate office, pharmaceutical industry, Oil and gas industry, Residential  apartments, toll plazas, food courts, parking lots etc. The company's primary focus  from last 3 years has been on providing RFID based vehicle  tracking solutions. IDCUBE's patent pending ASSA tag is a tamper proof, clone proof and rugged tag. If someone tries to remove the ASSA tag from a vehicle, it becomes non functional and cannot be used on some other vehicle. The IDCUBE's VAM solution based on ASSA tag is used to centrally manage Vehicle credentials and network of checkpoints to identify the vehicle and operate boom barriers, bollards etc. IDCUBE has more than 50 installations across INDIA on VAM platform. To further strengthen the security, CCTV and video analytics has been integrated in the VAM platform.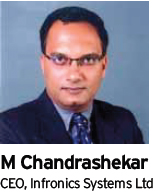 High-end Solutions for Automation
"Infronics is a recognised leader in delivering high end solutions and products using cutting edge technologies such as, RFID, Smart Cards, Biometrics and Mobile Solutions," says M Chandrashekar, CEO, Infronics Systems Ltd
The solutions being provided by Infronics solutions include: Automatic Vehicle Identification & Tracking: Vehicles are automatically identified at  entry and exit points of a facility. The solution provides vehicle  access control and also tracking the vehicles within the facility depending on the need. Parking Management: This solution is useful for large facilities, like gated communities, IT parks and resorts, where users can be issued  RFID/contact-less smart-cards for accessing parking facilities. It facilitates dynamic and efficient utilisation of parking spaces. Asset & Personnel Tracking: Our Asset Tracking solution utilizes both RFID as well as RTLS (Real Time Location System) tags to track and trace assets as well personnel within a facility. Personal Identification & Access Control: Our Time & Attendance and Access Control System combines RFID, Biometrics and Mobile technologies offering a combined solution for diverse domains. Smart Document: Smart Document is an innovative solution for universities which can issue tamper proof certificates to their students. The certificate is embedded with a tamper-evident RFID chip which contains the students' details and digitally encrypted signature of the certificate issuing authority. This safeguards the integrity of educational institute and also the authenticity of certificate holder. The outcome is a tamper proof certificate with student information stored on the RFID chip apart from regular content printed on the hard copy.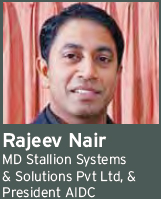 Rfid Technologies for Better Governance
"RFID technology is readily available for the entire world to adopt", says Rajeev Nair, MD Stallion Systems & Solutions Pvt Ltd, & President AIDC
Since the last three years, the Government of India has started spending large sums of money in upgrading the technologies systems for governance.  e-Governance is the new mantra. Lot of money is being spent on up-gradation of public transport infrastructure. RFID also has a prominent role to play in vehicle tracking, wagon management. So we are witnessing a move towards having RFID based toll plazas, where the toll charges get deducted automatically while the vehicle is in motion. There is also the move to incorporate RFID in railway and defense establishments.  Some cities are also implementing waste management through RFID. Another area where RFID applications can be useful are the libraries. Most libraries are  being converted into electronic ones. Areas that were earlier using Barcode technology, are  now switching over to RFID. Even a lot of schools and colleges are migrating to RFID from barcode technology.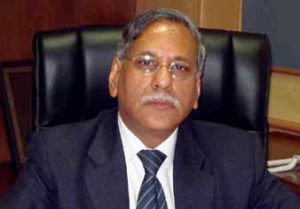 A Global Standard for Rfid
"There is a great potential for the government to use RFID technology for delivering Business-to-Government (B2G) and Government-to-Consumer (G2C) services," says Ravi Mathur, CEO, GS1 India, in conversation with Nayana Singh Ravi Mathur, CEO, GS1 India Please elaborate on the role of GS1 in standards used in
RFID technology?

GS1 has developed open, global and interoperable RFID standards, termed as EPC (Electronic Product Code) standards, which facilitate seamless implementation of RFID technology in the Supply Chain across multiple trading partners. These standards facilitate reading of RFID tags of different hardware suppliers which manufacture tags using EPC Gen2 standards. It makes use of the EPC data structure, which comprises a unique identifier of the physical object with its serial number using EPC standards. EPC standards also enable seamless data capture and query on status of physical objects in the supply chain across disparate IT business applications of trading partners with granular information related to the 'what', 'why' and 'when' of the RFID tagged object/consignment.

In what ways can EPC/RFID benefit the transportation and cargo movement sectors?

RFID brings transparency in logistics sector by ensuring real-time visibility of the flow of goods between trading partners and logistics providers. But it is required to put unified standards in place for the use of RFID, in different sectors and in different countries. Only then it will be possible to utilise the potential of this key technology. Use of EPC standards can ensure the same. With EPC/RFID identified systems real-world objects can be connected to related information, or product data. This is especially useful in optimising processes, such as tracking the routes of an object in delivery. Ecological efficiency is often a welcome by-product of process efficiency. Many companies are working to achieve "supply chain visibility" using EPC/RFID to cut their costs. That same "supply chain visibility" is important for cutting emissions and using energy more efficiently as it is for saving money.
Give us some examples of EPC/RFID applications being used in transportation and logistics sector?
GS1 EPC has globally completed the first phase of its Transportation and Logistics Industry Action Group RFID pilot programme. The pilot tracked in real time, the location of cargo containers shipped from Hong Kong to Japan. Phase one of the pilot assessed the use of both passive and active EPC tags for sea shipment of cartons and containers. The pilot addressed specific business needs of the partners, such as matching tagged products with purchase orders. This multiindustry, multi-stakeholder initiative extensively tested EPC global standards developed in response to specific user requirements. Through the use of the EPC Information Services (EPCIS) standard in particular, true visibility at critical junctions throughout the global supply chain has been achieved. Worldwide, EPC/RFID standards are extensively in use by T & L sector. In Taiwan, it is being used as a tool to fight smuggling in certain ports. EPC/RFID turns out to be an important time and money saver at Customs, so much that the system was generalised in every international port of the region and is expected to become global. In Sweden, the Swedish Transport Administration (STA) uses EPC/RFID standards along with European standard for transport in the rail sector for identifying and tracking rolling stocks throughout Europe and for optimising the filling of railway  container vessels of Sweden and Norway containers. There are many more examples available in our global website at http:// www.gs1.org/transportlogistics/ implementation.
What are the challenges industries faces in RFID adoption in India?
Indian Industry does not currently appreciate the potential of RFID, its many applications, benefits in enhancing efficiency, speed and accuracy of business
operations. This is because several business processes still remain manual with attendant delays, errors and reworks, costs of which have not been captured and tabulated by Indian companies. Implementation, solution architecting and system integration expertise is also lacking which inhibits proper understanding of RFID technology, global standards and potential business applications.
What would you recommend at the policy-making level so that there is more acceptance/ awareness of RFID in India?
Import duties/taxes on hardware like RFID tags and readers should be minimised. Due to its wide potential for benefitting the Indian economy, the government should come up with specific measures for promoting indigenous research in this area. Government is a potential user of RFID technology for delivering Business-to-Government (B2G) and Government-to-Consumers (G2C) services with speed, accuracy and higher efficiency. It should therefore act as role model in implementing RFID technology using global EPC standards to create business cases for adoption by Industry across sectors   across sectors.
Follow and connect with us on Facebook, Twitter, LinkedIn, Elets video