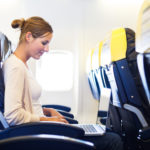 Delta Air Lines will start offering in-flight Internet service on its long-haul international flee. The facility will be available in more than 150 aircraft from early next year.
The expanded Wi-Fi service will use satellites to provide coverage internationally and will complement the existing air-to-ground service already provided by Gogo.
Delta already operates the world's largest Wi-Fi equipped fleet of aircraft with more than 3,000 flights daily, including its entire fleet of 550 domestic mainline aircraft.
More than 800 Delta aircraft, including all Delta Connection two-class regional jets, are equipped with in-flight Wi-Fi service offering more than 400,000 customers per day access to the Internet above 10,000 feet.
The international service will use high-bandwidth Ku-band capacity satellites to provide global coverage. When complete in 2015, Delta will operate approximately 1,000 Wi-Fi equipped aircraft in its worldwide fleet that includes Boeing 777, 767, 747, Airbus 330 and transoceanic Boeing 757 aircraft.
The expansion of in-flight Wi-Fi to Delta's transoceanic fleet is the latest in the airline's more than $3-billion investment in enhanced global products, services and airport facilities through 2013.
Follow and connect with us on Facebook, Twitter, LinkedIn, Elets video