Maj Gen R C Padhi, Additional Surveyor General, Surveyor General's Office, provides us with an overview of the role that GIS solutions can play in improving the structure of governance in the country

---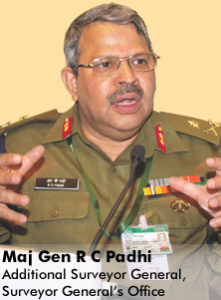 Tell us about the GIS solutions being used in Survey of India?
The Survey of India is using GIS solutions for three important objectives. Firstly, for generating the GIS base data. It is generated on 1:50,000 scale and on 1:25,000 scale. Secondly, for collecting the actual information that can serve as an input for GIS. Thirdly, for providing  support to the GIS Delhi division. We also provide support to the National Urban Information system, which is also called NUIS project covering 152 towns and cities in the country. These towns and cities are being surveyed on a 1:2000 scale to collect the data on which GIS will be applied.
How is GIS helping in mapping work?
A normal map is basically a line map having two dimensional drawing. In GIS, the  information that comes forth is much more detailed as compared to what we can have from  any normal map. Through GIS we can have much more detailed information in 2D and 3D  formats. For instance, a normal map will only provide the information about the distance of a road. But on a GIS map, the road width, the type of road, road classification and a lot of other information can be linked. Therefore a GIS solution can also be seen as a value added product of a live map.
What are the key advantages of using GIS solutions in large government projects?
GIS solutions enable better monitoring of large projects. In projects like the National  Highway project, one needs to have information on the location and ownership of the land,  and the profile of the land (it could be agricultural land; it could be a waste land). These  answers may be available at different places. Some answers may be available in railway  offices; some may be answered by the forest departments and other government offices. All  these information can be obtained in a compiled form from GIS. Another important  advantage of GIS is that it provides information that is scientific and is created on the basis  of a common data standard and in a format that is universally recognised. It to better  integration between government departments and working groups.
What are the ways by which GIS solutions can lead to more local participation in large projects?
The first step consists of data collection. Then comes the aspect of putting the data in a  network, and finally there is capacity building. Industrial participation is also a vital step,  without which modern technology cannot come in. There has to be collaboration between  the government and the industry. Right now, there are many companies in India and  abroad that are directly involved in these projects. Government should come out with good  policies which help us in our work, encourage industry participation.
What are the main challenges that you face?
Our policies are very old; they are not in tune with modern times. The bureaucracy does  not understand the importance of technology. The government servants can read the  language of the policies, but they do not understand the spirit. The policies should cater to  the concerns of the industry and they should be industry friendly. Of course, some policies  are getting amended such as the remote sensing data policy. The national data sharing  policy is also getting amended. Policies are not static, they are dynamic in nature. Policies  need to undergo repeated modification, taking into account the needs of the time.
What kind of innovations are you expecting in GIS space?
The quality of hardware and software is becoming much better. There is vast improvement in storage. Resolution being offered by the different systems is much better. For disaster management, you need higher resolution over a limited area. Digital technology keeps  getting better and so the scope of GIS is getting enhanced all the time.
Follow and connect with us on Facebook, Twitter, LinkedIn, Elets video