"e-Governance projects have been started by many departments, but these services need constant improvements to make them more effective. We need high-tech tools that can enable better communication between the citizens and government," says Dr Arvind Gupta, National Convener, BJP IT Cell
---
As convener of BJP's IT Cell, what is your mandate?
Information Technology has always been an important area of growth and we at BJP have been early adopters of such cutting edge technologies. The IT Cell of the party is mandated to work on various processes of internal modernisation, which envisages usage of latest technologies. We need technology for enabling better political outreach and engagement. The IT Cell also takes care of issues regarding policy, governance and IT Industry.
What is the vision of the BJP for India's IT industry?
BJP views the IT Industry as a sunrise industry, which will play a seminal role  in changing the fortunes of our nation. This sector is second largest domestic industry after the banking sector. Due importance must always be accorded to the IT Industry. India is a global leader in IT Industry and BJP works with our state governments, and the parliament to ensure that the needs this Industry are addressed adequately. BJP has been on the forefront of promoting domestic IT industry. In fact, the BJP had released a separate IT Vision Document in 2009.
---
7th National meet of BJP IT Cell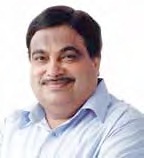 At the 7th National meet of the BJP IT Cell, the party President, Shri Nitin Gadkari emphasised the importance of Information Technology in providing good governance and reducing corruption. He shared the examples like PDS system in Chhattisgarh and eProcurement project in Karnataka and how these projects have helped improve citizen services and reduce corruption. He also stated that we should be open to all IT best practices and ideas.
At the national meet a unanimous demand was made to the government to initiate a fast track projects for building high speed digital highways down to each Tehsil and village block. Such project can of help in improving citizen services in rural area. The meet also demanded that minimum broadband speed be increased from the current 256 Kbps to 512 Kbps and subsequently to 1024 to enable delivery of better educational content and e-Governance to the rural areas of India.
---
Do you think that the social networking sites can be a medium of social reform? What must the government do to optimise the capabilities of the social networks?
Social Media is the most democratic and unbiased media. It has no single owner. It does not have influential shareholders. This makes it completely independent of powerful forces. Anyone can open an account and be a publisher, broadcaster etc. Many movements across the world, including India, have relied on social media to garner immense amount of popularity.  These movements have used the very low cost social media solutions to build public opinion. Governments, policy makers should harness the power of this medium to listen, engage and respond to the citizens. Many BJP Governments  and leaders have been using this medium for precisely the same. Gujarat, Karnataka are leading examples. In Delhi, BJP has used crowd-sourcing  strategies to solicit the views of citizens on Delhi Vision 2025. The governments need to come out with a better Social Media Usage policy and  encourage departments to use Social Media. Internal Training and Evangelising  is required for governments to adopt the same and understand  the power of this medium.
What is your view of the e-Governance projects that have been started in the country?
Technology assisted governance and administration will go a long way in  solving many of  the issues being faced by our country. e-Governance
projects have been started by many departments, but these services need  constant improvements to make them more effective. We need high-tech tools that can enable better communication between the citizens and the government.
What is your dream e-Governance project? Please tell us about one e-Governance project that you think will be most beneficial for the common citizens of the country?
There are many projects that can be quoted from online recruitment, ePDS, Electronic Land Records, Online Birth Certificates. Any project which eases the life of ordinary citizens, brings transparency in government processes and automates administrative work would be most beneficial to common citizens.

What are the ways by which modern IT technology can be used to awaken a sense of national pride amongst India's youth and acquaint them about India's great culture?
Internet is a great enabler when it comes down to creating and disseminating low cost content to a much larger audience. e-Learning is an idea whose time has come. The creation of local content in Indian History and culture for  Internet, tablets and mobile phones should be encouraged. We have started  Yuva iTV an initiative to reach out to common citizens for educating them on political issues. Government through policy based incentives can enable  internal agencies and external providers to create content that highlights India's history, heritage and culture, while also instilling a sense of nationalism in today's youth.

These days there is lot of discussion on the subject of malicious content that is often being placed on different outlets on the Internet. In your view what are the best ways by which we can regulate the Internet?
Internet and Social Media have created many new issues. With every new  development in technology, some lacunae might emerge. But the positives  always outweigh the negatives. We cannot regulate the Internet like we do  regulation on other media. Most of the social media platforms have avenues for  self regulation and that along with the existing IT Act of India is enough to  tackle the problem of malicious/objectionable content in India. Censorship via  the Intermediary as proposed by the Government via IT Rules 2011 is not  required as sufficient laws exist to prevent seditious, malicious and hate  speech related content.
In your opinion what should be done?
It is important that efforts are made to clarify objectionable content and introduce a Dispute Resolution Authority for user generated content related disputes.

The world economy is suffering from an economic downturn. What must the government do to revive the Indian economy, and especially the IT sector?
Government needs to listen to the industry, stakeholders and opposition  parties to resolve the policy paralysis that we are currently having the  country. Growth is primarily services driven and IT Industry is contributing significantly to same. The basic needs of the IT Industry are very simple. There  has to be a consistent IT SEZ Policy, there must also be MAT Protection  in SEZ. We have to provide incentives for local manufacturing and for locating IT Industries in Tier 2-3 cities. Innovation and entrepreneurship should be encouraged with the creation of a vibrant eco system.
Follow and connect with us on Facebook, Twitter, LinkedIn, Elets video