"Successful implementation of IT projects requires people who understand both – the IT and the domain," Sanjay Malhotra, Secretary, Department of Information and Technology, Govt. Of Rajasthan
---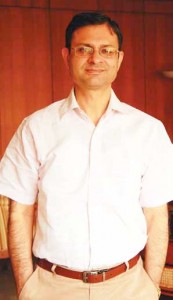 Tell us about your vision for the state's IT department.
The Government of Rajasthan's vision for IT are empowerment and inclusion for its citizens; empowerment of citizens to exercise the Right to Public Services on the 'Sevottam' model; and inclusion encompassing social, financial and digital inclusions by leveraging technology to reduce these divides. For us, manifestation of this vision is e-Governance! Our strategy to realise this vision has following cornerstones: (i) focus on services, particularly the Government to Citizen (G2C) services underpinned by requisite Government Process Re-Engineering and Change Management; (ii) creation of a robust, secure and scalable service delivery platform underpinned by sharing of common infrastructure elements of the State Data Centre, State Wide Area Network, Common Service Centre kiosks and State Service Delivery Gateway; (iii) emphasis on Capacity Building and Public Private Partnerships (PPPs) to enable and accelerate rapid development, deployment and delivery of services.
Tell us about the initiatives that your department is taking to bring about growth in the state's IT industry.
Creating ecosystem for a globally competitive IT/ITES industry, particularly for the local SMEs and Start-ups in the State, is in spirit with the draft National IT Policy 2011, as well as the current NASSCOM priorities, to spur innovation, entrepreneurship and job opportunities beyond the established metros or Tier I cities in India and beyond the established companies in India. Although we have not opted for a preferential pricing in procurement from the local industry, trading it off for competiveness; we are significantly investing in IT infrastructure throughout the state, which in turn shall enable the local industry to deliver better, faster and cheaper than the established centres of excellence and hopefully, in turn trigger the accelerated growth snowball effect associated with better Return on Investment.
How would you rate the state's response to e-Governance?
The National e-Governance Plan (NeGP), which takes a holistic and integrated view of e-Governance across the country, provides us a framework to drive our e-Governance efforts as well as to meticulously review, scrutinise and introspect the progress we have made. Rajasthan's response to e-Governance in last few years has been notably good. We've enacted key enabling policies, facilitated the ecosystem, expended efforts towards sensitization of backend departments and significantly invested in internal capacity to realize our vision.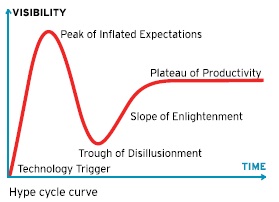 The graph below is a graphic representation of the maturity, adoption and social application of emerging technologies. As with emerging technologies, similar pattern may be observed for e-Governance initiatives. The curve has also taught us that as important as the initiation, gestation and delivery of technology and availability of resources are, nothing is more important than the eGov intent, readiness and change management associated with people and processes. We have established successes in the State that are points on the Plateau of Productivity, for example, the eMitra/CSC kiosk network ensuring  several lakhs citizen transactions every month; and at the same time we've other initiatives that have gone from inflated expectations to disillusionment to slope of enlightenment, for example, the recent success with e-Procurement system in the State.
Tell us about the e-Governance projects of the state that have the potential to be replicated?
Our eMitra/CSC kiosk network, notably its scalability to enable high-volume utility bill payments, integration with online payments, delivery of digitally signed certificates at the tehsildar level, pilot of digitally signed land records Jamabandi and excellent MIS reporting is a commendable project,  notwithstanding few of its weaker areas manifesting from its gradual evolution, has the potential to be replicated widely in other states. Replication of successes in other states and within the state is, without a doubt, an efficient and additional means to accelerate our growth; and if I may, I believe that the originator(s) of the exemplary success also have the ownership to the extent to trivialise its replication.

What are the main challenges that you face in the implementation of e-Governance projects?
At the core, it's all about delivering services to the citizens and businesses, and so paramount challenge remains rapid development, deployment and delivery of services. Most states including Rajasthan have had measurable albeit mixed successes with establishing the core infrastructural elements, and therefore a rich bouquet of services is key to maximising the benefits afforded by the novel assisted-delivery CSC kiosks setup all across the country. Sensitising departments that e-Governance is not so much so about the lower-case 'e' but about Governance remains a challenge. Sustained leadership including political support and administrative will; and perseverance are thus paramount.
---
"AADHAAR is of paramount importance as it shall accelerate effective and efficient delivery of services"
---
What are the main challenges being faced by the officials in the position of IT secretary?
Across the four pillars of eGovernance – People, Processes, Technology and Resources, the key concerns are: (i) Inability to replicate isolated successes with a quick turnaround, (ii) Lack of skills in the government sector for large-scale effective project management, visionary enterprise architecture, deep understanding of software development/lifecycle and thoughtful process re-engineering; and the resulting delays in overall project execution, and (iii) zero or poor connectivity at the district, block and village level. Successful implementation of IT projects, in governments or private sector, requires people who understand both – the IT and the domain; it is usually difficult to find and recruit such people with the right mix. Another challenge we face often is with respect to the change in design or scope of a project. As we move  forwards, we learn newer and better ways of doing things, and thus change is inevitable; however our procurement rules and procedures are usually not  correspondingly flexible to accommodate such changes.
Please shed some light on the progress of UIDAI scheme in your state.
The much-awaited first-of-its-kind AADHAAR scheme of UIDAI is a game changer; it is of paramount importance as it shall accelerate effective and efficient delivery of services. The scheme is in its early phase, given the current focus on citizen enrolments. Rajasthan has given full priority to AADHAAR and we've achieved about 85 lacs enrolments so far. It cannot be understated that the profound impact will come as more and more services realise the benefits  of UID.
This is also catalysing a paradigm shift in the way e-Governance  applications are developed –from stand alone apps in silos, to a new paradigm based on integration. Recently, we have started a pilot project in the Kotkasim tehsil of Alwar district, where distribution of kerosene through Public Distribution System (PDS) is being integrated with AADHAAR. UID based authentication will enable us to ensure only the right people are provided their share and no more or no less than what they deserve!

In your opinion what kind of experiences and sensibilities as an administrator, must an IT secretary bring to his job?
Policy formulation, its implementation and decision making are key distinguishing attributes of an administrator. Information Technology exhibits  unique challenges that an aspiring administrator and to-be IT secretary may  appreciate: as the industry is very young, there is a very rapid pace of change  and growth, necessitating speedy learning as well as unlearning to be effective.  Appreciation of change management and capacity building is vital.Understanding and knowledge of the IT industry is always helpful, but most importantly, I believe, it is being highly committed to the cause of  Governance and being deeply passionate to bring about a change – to  transform; as e-Governance is about transformations and not translations!
Follow and connect with us on Facebook, Twitter, LinkedIn, Elets video