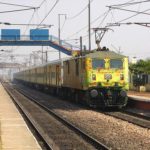 As the 'Aadhaar' scheme was not generating adequate response outside metropolitan centres, the UIDAI is looking at railway routes for promotion. Adopting a corporate concept, the UIDAI has approached the Railways with a proposal to do branding of the 'Aadhaar' scheme on trains.
"As part of its efforts, the UIDAI would like to explore the possibility of branding of two trains with 'Aadhaar'— various messages related to its benefits, features and processes," the UIDAI has said in a recent letter to the Railways.
The Railways have so far not responded to the proposal.
Mandated by the government to provide every Indian resident a unique identity number called 'Aadhaar', the authority has been able to generate Aadhaar numbers for only 20 crore citizens. The authority needs to enroll 1.1 billion citizens.
Over the next 18 months, the UIDAI has set for itself the daunting task of enrolling 40 crore residents.
A train run on a corporate brand – called the Kurkure Express – was first run on the network of the Indian Railways in 2007 – sponsored by the Pepsi group company Frito-Lay India.
The three summer special trains ran across the Bangalore-Nagarkole, Bangalore-Chennai and Bangalore-Hubli stretches for three months.
Follow and connect with us on Facebook, Twitter, LinkedIn, Elets video