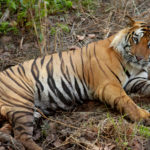 The Kaziranga National Park in Assam has taken to highly modernised method of saving tigers. There are about 81 to 131 tiger populating the place.
The pugmarks help in detecting the whereabouts of the animal. They can be located from a very long distance.
Wildlife Research Officer Robin Sharma's team sets up a camera trap. It's a user friendly technology where images are recorded on a data card, pulled out and the camera is put back.
There is another type of camera, which has a censor and a white flash, which gets activated.
In the past three years, with help from a wildlife NGO, Aranyak, camera traps have successfully recorded images of not one or two, but 118 tigers.
Kaziranga reserve has been divided into 252 grids. Accordingly 125 grids have been selected on the basis of science surveys. 125 pairs of cameras have been fixed, one pair for every grid. Cameras are more scientific than pugmarks as all the tigers have unique stripes.It gives more accuracy, data can be collected, processed and studied at ease. The system facilitates coverage over a vast area.
But the camera traps have also recorded the images of poachers, increasing the responsibility of the foot soldiers who keep a watch on the 430 square kilometre park. For now, this remains one of the most densely populated reserves in the country for tigers.
Follow and connect with us on Facebook, Twitter, LinkedIn, Elets video