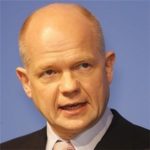 The British government has accused Iranian authorities of blocking a website that Britain had launched to reach out to Iranians. William Hague, British Foreign Secretary, has said that the "UK for Iranians" website which he launched with a personal video message had been blocked three days later by Tehran.
"I condemn this action by the Iranian government. We have no quarrel with the Iranian people and regret that the Iranian authorities fear their own citizens' interaction and involvement with the outside world," Hague said in a statement.
According to Hague, the website (ukforiranians.fco.gov.uk/en in English and ukforiranians.fco.gov.uk/fa in Farsi) and the use of social media such as Facebook and Twitter were an attempt to engage with Iranians and explain British policy.
Britain has been at the forefront of Western opposition to Iran's nuclear programme. British leaders have consistently supported tough sanctions against Tehran. On its part, Iran has said that its atomic activities are entirely peaceful.
Relations hit new lows last November when protesters stormed the British embassy, prompting London to evacuate its Tehran staff and expel all Iranian diplomats from Britain.
Iran said that was an over-reaction and accused London of censorship when its state-run English language news channel Press TV was banned from British airwaves.
Britain's public service broadcaster, the BBC, said on Wednesday it had suffered a sophisticated cyber-attack following a campaign by Iranian authorities against its Persian service.
"Iran's people have had to endure an ever-tightening stranglehold of censorship," Hague said.
"The blocking of our website is only a very small part of what Iranians undergo daily: millions of websites blocked, access to e-mail services denied, international television channels jammed, films and theatre productions closed down, books unpublished, traditional Persian literature rewritten and newspapers banned."
Follow and connect with us on Facebook, Twitter, LinkedIn, Elets video