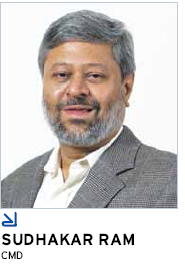 Company name
Mastek Ltd
Management Team
Rajyadhyaksha, Vidyesh Khanolkar

Head office
#106, SDF IV, SEEPZ Andheri (East), Mumbai – 400 096, India Tel: +91-  22-66952222, Fax: +91-22-66951331
Major regional Offices
New Delhi, Pune, Chennai

Contact Person for Clarification
Sanjay Mudnaney, Head – Corporate Communications, Tel: +91-22-66952222
Website
www.mastek.com
Company Profile

Mastek is an INR 614 Crore (FY 2011) publicly held, global enterprise technology solutions and systems integration provider to customers across  Government, Insurance and Financial Services. For over 28 years, we have  combined our leading products, people, and processes to drive business impact  and competitive advantage. Mastek uniquely combines its wide  intellectual property base, domain expertise, mission-critical program  management abilities and complex solutions capabilities to help customers  unlock business value.
Established in 1982, Mastek collaborates with customers  to help them use technology more effectively, drive down costs and  meet the business challenges, while maintaining an outstanding implementation record. They create clear business advantage and value for customers, not just  in terms of technology but by aligning ourselves to their business vision.
With  employee strength of around 3000 people, it operates across India,  Asia-Pacific, Middle East, Europe and North America, Mastek has eight  world-class global delivery centers in India and Malaysia.
Products and Services
Tax Administration, Social Welfare Suite- an enterprise-wide solution that manages all the schemes designed for social welfare, Integrated suite of  independent solutions such as Local Body Tax, Property Tax, e-Tendering,  GIS-based Works Management System, Town Planning, Water Billing, Human  Resource Management System (HRMS) and Accounting & Budgeting, Public  Distribution Management Solution, Hospital and Patient Management solutions,  Solutions to manage schools, colleges and universities, e-Prison  Solution for the effective management of prisons and its inmates, Solutions in  the area of transportation and supply chain management, Business  Re-engineering solutions.
Targeted Verticals
Governance, Power, Education, Transportation, and Healthcare
Achievements and USP
• 20+ years of government experience
• 1200+ Man years' experience in the Government vertical
• Demonstrable expertise in designing and developing mission critical applications in complex and multivendor environments
• Received the "The Best Project under the Government to Business (G2B) category at the eWorld forum 2011" for our eServices solution implementation at the Orissa Commercial Tax Department.
• Received the "Maharashtra Information Technology Award 2008" in the IT Software category.
• Ranked in Best 20 leaders Global Outsourcing by IAOP in 2011.
• Quality Certifications and Assessments: SEI CMMi Level 5 (version 1.2), ISO 9001-2008, ISO 27001:2005 (Information Security Management)