e-Procurement of Goods, Works & Services
Implementing Agency: Mahanadi Coalfields Limited
www.mcl.gov.in
Mahanadi Coalfields Limited, is the second largest Coal Producing company of

  India. Much of its business activities have been outsourced. The finalisation of  tenders through manual processes used to take 120 days on average which has  decreased to a week by the adoption of the web-based e-procurement system  which has re-engineered the entire tendering process covering all categories  viz. works, services, hiring of vehicle, procurement of materials, annual  maintenance contracts. The project covers all types of tenders viz. Open  (Domestic & Multi Currency Global), Limited Tenders, Single Tenders valuing Rs  2 Lakh or more. The whole tendering activity starting from Floating of  Notice Inviting Tender till Award of Contract is covered under this Project.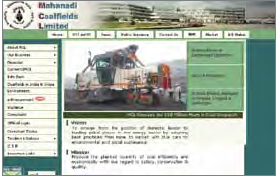 The  Project was conceived by MCL and has been implemented with the support of  National Informatics Centre, Govt. of India. The salient features of the project  include fully automatic evaluation of the Tenders including Techno-commercial  bid and Price Bid; evaluation on the basis of highly structured and  objective data obtained from the bidders doing away with the need of  submitting any document online or off-line for evaluation.
The entire business  logic required for the validation of data and evaluation of bids has been  incorporated in the software. Bidders and Departmental users get appropriate  system generated e-mails and SMS at various stages of tendering. Bidders can  obtain clarifications on the portal in a very transparent manner without  disclosing their identity. Anybody can view the Tender documents and status of  the any Tender from the "Guest Login", without getting registered on the  portal  .
Plant Quarantine Information System
Implementing Agency: National Informatics Center
  plantquarantineindia.nic.in
The Plant Quarantine Information System (PQIS) project is the first 

e-Governance initiative in Ministry of Agriculture in which complete workflow  process from online application to processing of forms and issuance of  certificates has been computerised.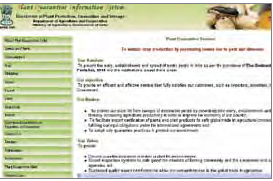 Plant Quarantine is mandatory for import  of any plant material under the provisions of Destructive Insects and Pests Act  (1914) and Plant Quarantine Rules including Plants, Fruits and Seeds Order  1989 (PFS Order).
The project is being executed by National Informatics Centre  (NIC) for Directorate of Plant Protection, Quarantine & Storage (DPPQ&S),  Department of Agriculture and Cooperation (DAC), Ministry of Agriculture.
The  system facilitates online registration of importers and exporters; Online  submission of application by Importers for Import Permit and Import Release  Order; Online submission of application by Exporters. The system also  facilitates online processing of these applications using workflows by plant quarantine Stations, automation of fees calculation, online schedules  availability for processing applications, generation of Phyto-Sanitary  Certificate (PSC), Import Permit (IP) and Import Release Order (IRO), MIS  Reports for monitoring the application processing and creation of database on  Import conditions as per the Plant Quarantine Order 2003.
32 Plant Quarantine  Stations have been networked through dedicated leased line to  NICNET for accessing the system. The system brings transparency in  quarantine services, uniform adoption of standard procedures at all the PQSs  and helps in minimising visits of traders at PQS to get the certificate issued.
Follow and connect with us on Facebook, Twitter, LinkedIn, Elets video