The Departmental entities have undertaken a number of ICT-backed initiatives to better manage issues related to conservation of the environment and pollution control
Dr S K Nanda, Principal Secretary, Department of Forests and Environment, Government of Gujarat
In governance, ICT has a wide range of applications. It is ICT that is ultimately going to guide  us in evolving and fine tuning new mechanisms for sharing, training, ensuring  accountability, making due interventions, strategising and also in exercising control when  required. ICT should aid us in our activities and also act as a tool for overcoming roadblocks as  and when they crop up. In sum, ICT should be deployed to promote innovation, out of the box solutions, and in resolving issues rather than just sitting on them.
Extension Green Node (XGN)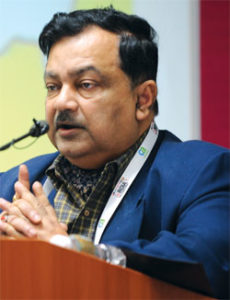 The Gujarat Pollution Control Board (GPCB) and National Informatics Centre (NIC) have developed an application called Extension Green Node (XGN) which is now being adopted throughout the country. XGN helps the Board in implementation of various Pollution &  Environment Acts related to air quality, water quality, sewerage and hazardous waste. The  application is being used by 300 technical and scientific staff at 13 field offices in Gujarat and  100 personnel at GPCB, besides concerned industries.
GPCB and NIC have developed an application called Extension Green Node (XGN) which is  now being adopted throughout the country
XGN is a G2B application that facilitates the online application for No Objection Certificate     (NOC) and covers the entire process from inspection to laboratory to accounting. When someone applies for a NOC, they have to generate 26 pdf files and have to put it online. On thebasis of these pdf files, online queries are raised and replies are given. Group or individual text messages are also sent to registered mobiles. There are nine stages of any approval and all stages have been moved online under the new system. A user (industry) is given a username and password for accessing the system and the process is monitored by nine officers who have been provided administrative password so that they can break down the data by regional and state level.
At present, G2G services are confined to the Bio Medical Waste (BMW). 183 local bodies, municipalities and 27000 hospitals and clinics are our clients. They are all governed by the BMW Act, which is very punitive in nature. If any violations take place it can lead to even arrests and criminal prosecutions, and these all analysis and compilation of data has been  done, is being done so that the Management Information System (MIS) reports about its  activity, operation, processing and the quantified results are also being generated.

e-Governance Applications in Forests Department
The Department of Forests has made use of GIS to generate the state's forest data, social forestry data, administrative data etc. A PDA application has been developed for real time tracking of forest beat guards, alerts for fire, tree cutting, encroachment, man- animal conflict in forest, rescue & release activities for wild animals, etc.
We have created a portal for implementing a Central Command Centre through which an individual can perform tasks such as sending SMS alerts, group calling, mails to higher authorities for immediate action related to emergencies etc. We are also in the process of connecting all Forest Department offices on Multi Protocol Label Switching and a TETRA Digital Trunked Radio System. A Digital Trunk Radio System is to be installed at various  locations of the Gir Forest and shall provide radio coverage for the complete forest
Follow and connect with us on Facebook, Twitter, LinkedIn, Elets video