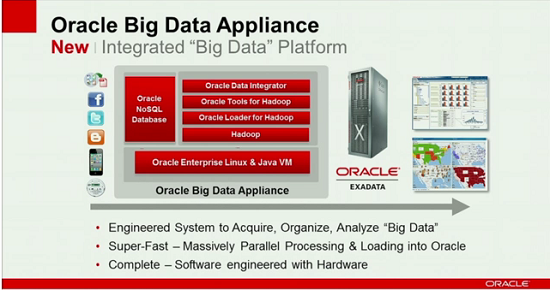 Oracle has developed a specific distribution for the new Big Data Appliance after forging a partnership with pioneering Apache Hadoop interface/tools provider Cloudera. This new system could prove to be a boon for many e-Governance initiatives that have to deal with massive amounts of data.
It was in 2008 that Oracle launched its 12-petabyte data-storage Exadata server. Oracle's cloud database/analytics Exalogic server came two years later. But now the company seems to have decided that it needs a product that is actually called "big data." So now no one can mistake what this system is all about.
The data centre machine called the Oracle Big Data Appliance was launched in January 10. The system is in the footsteps of many past Oracle products: Engineered-together hardware and software, previously tested and configured, and stamped with the Oracle and partners "seal of approval" (though not literally). It's all but a turnkey workhorse to provide analyses of large batches of data.
Of course, there must be specialized software to go with it. So, also on January 10 when Big Data Appliance was launched, Oracle announced that it has forged a partnership with pioneering Hadoop analytics software provider Cloudera to create a specific Apache Hadoop distribution and tools for the Big Data Appliance.
Cetin Ozbutun, Oracle vice president of Data Warehousing Products, said, "A good number of our customers want to just 'load and go' when it comes to big-data batch (warehousing and analytics) use cases. There is minimal configuration and setup with this appliance, and we've found that customers can save weeks or even months on getting their deployments up and running."
"It also simplifies and controls costs for the big data analytics process by re-integrating all hardware and software components into a single big data package that complements (existing) enterprise data warehouses," Ozbutun said.
Follow and connect with us on Facebook, Twitter, LinkedIn, Elets video