It has to be admitted that today, more than ever before, technology plays a vital role in bringing about integration in society of all social and economic classes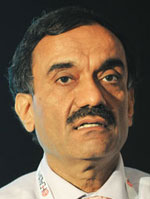 By L P Rai,
Deputy General Manager, State Bank of India
Financial Inclusion is a crucial link and a substantial first step towards achieving inclusive growth. More than 40 percent of Indian population is unbanked and more than 51 percent of farm households have no access to formal or informal sources of credit while 73 percent have no access to formal sources of credit. The financially excluded sections largely comprise-marginal farmers, landless labourers, self employed and unorganised sector enterprises, urban slum dwellers, migrants, ethnic minorities and socially excluded groups, senior citizens and women. While there are pockets of large excluded population in all parts of the country, the north east, eastern and central regions contain most of the financially excluded population.
There are various reasons for exclusion in our country. Physical access is a deterrent in remote, hilly and sparsely populated areas with poor infrastructure. Lack of awareness, low incomes/assets, social exclusion and illiteracy act as barriers. Distance from branch, branch timings, cumbersome documentation and procedures, unsuitable products, language and staff attitudes are common reasons for exclusion. There is higher transaction cost apart from procedural hassles. KYC requirements are stringent. Inability to prove identity is one of the biggest barriers preventing the poor from accessing banking services and subsidies.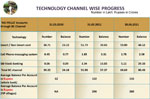 Technology Platforms
It has to be admitted that today, more than even before, technology plays a vital role in bringing about integration of all social and economic classes. Accessibility, affordability, appropriateness and benefits determine how deep financial inclusion penetrates the social fabric of the village.
The central government and the Reserve Bank of India have been promoting the idea of financial inclusion for large segments of our population through the use of IT-based, e-governance initiatives.
Within this model, banks can outsource their facilities through agents (i.e. Business Correspondents) who would conduct branchless banking on their behalf in the remotest of villages, using tools like biometric cards or mobile phones that deliver services based on GPRS technology. This model is meant to reach the last man located at the bottom of the pyramid.
SBI Tiny Card is an initiative for financial inclusion. An extensive ID profile is created on the card. Some information fields are compulsory and others are optional. Optional fields can also be captured in the future and written post-issuance on the card with control of the back-end system. The card is currently being used as a means of payment of government benefits directly to the poor.
KIOSK Banking
SBI KIOSK Banking is a facility provided by State Bank of India wherein customers need not go to the SBI branch to make different transactions. These kiosk banks have the facility of cash and check deposits; while their withdrawal actions are similar to those of ATM. Existing customers who are not enrolled for kiosk banking may also use the system for cash withdrawals and deposits. A Customer Service Point (CSP) has a personal computer, internet connection, printer and biometric device, while the kiosk banking system opens no frills account of the poor people.
Follow and connect with us on Facebook, Twitter, LinkedIn, Elets video