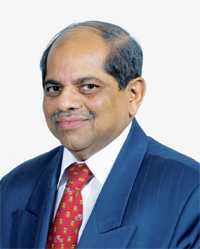 Ashank Desai
Founder
Mastek Ltd
It is not about procurement of hardware and software but changing the way services are delivered to and accessed by the common man
The Government of India has embarked on an ambitious e-Governance initiative when the National e-Governance Plan (NeGP) was approved by the Cabinet in May 2006, which aims to provide a host of services to the citizens, businesses, employees and the Civil Society in a convenient, efficient and transparent manner. The scope of 'e-Governance' includes attributes such as Service-Centric approach, Citizen-Centricity, Speed and Certainty of Delivery, Integrated Delivery of Services, Accountability, Inclusive Socio-Economic Policies etc. so as to ensure empowerment of the poorest of the poor and the marginalised groups through access to information and critical State Services.
The focus thus has shifted from translation to transformation meaning, thereby, that it is not about procurement of hardware and software but changing the way services are delivered to and accessed by the common man. Six years ago, IT players struggled to sell their so called Solutions (read Products) to the Government in various areas; today the Governments know what they need and demand the specific, bespoke or customized or configured Solutions to meet their specific requirements.
Pleasant and proven experiences of various IT automations such as Railway or Bus Reservations, Utility Billings, ATMs, SMS on Mobile have convinced even the illiterate masses about the effectiveness of such initiatives adding to the pressure on the Government and further triggered the 'interpolate' demand for the Governments to become more responsive to Citizens.
Technology alone never achieves the change without the necessary Business Process Re-engineering (BPR). This will be the most difficult task, a step towards truly democratic society. Dissemination mechanism plays a crucial role in this context. Authorities having a dashboard view of operations, officers having an integrated view of operations and citizens having control on operations is what we can term as empowerment. e-Governance needs to come with this promise; without which it is difficult to mitigate the digital divide.


"In the times to come, government websites would be the first point of contact for citizens"
Follow and connect with us on Facebook, Twitter, LinkedIn, Elets video