In remote infrastructure management, we differentiate with a unique, innovative service delivery platform, which most others don't have
P K Gopalakrishnan
Senior Vice President and Head,
MindTree India
PK Gopalakrishnan, Senior Vice President and Head of MindTree's India operations is a veteran with extensive experience in the industry. Gopalakrishnan holds business responsibility for the Indian enterprises, defence and government sectors at MindTree. The company has recently secured the application development and maintenance service contract of 'Aadhaar', earlier known as the Unique Identification (UID) project. Gopalakrishnan tells about this partnership, about how his company is equipped to handle this massive task in particular, and his vision regarding the company's potential in the government sector in the coming years to Prachi Shirur
MindTree is the development partner to build the Aadhaar application, in collaboration with the technology team of UIDAI and other stakeholders. Please tell us more about this partnership, strategy and timeline.
Well, we have been working 24/7 for the last five months on this project and have been working very closely with the technical team of UIDAI. We were selected after a rigorous evaluation process. We got qualified on account of our complete understanding of the vision and complexity of the project as well as our ability to put the best brains to work on the technical architecture and its implementation. UIDAI had clearly articulated their need to have a modular, yet scalable and open architecture. We used significant innovation in terms of architecture design, and some of the principles would never have been tried on a large-scale anywhere in the world. Our technical designers did a fantastic job.
On the timeline, anytime now the first details will get issued. This is strictly for the government to decide.
How well equipped is your company to deal with one of the most complex IT infrastructures to be used in the project Aadhaar?

As mentioned before, our differentiator was the quality of our team and the passion and deep knowledge they brought to the table. We have done several complex projects internationally across diverse sectors, but this is the first time that we are doing a project of this scale in the domestic market. Besides our 'minds,' the rigour of our processes and the regular and consistent dialogue with the UIDAI technical team, helped. Also, we had a cart blanche from our top management to do anything to get the project going on time. So we were able to continuously draw the best resources whenever the need arose for additional help.
What is your take regarding the role of UID for citizens in India and how optimistic are you about its success, in view of the international experiences with UID and in view of the complexity involved in such a large country as India?
Well, we cannot view this as a technology project, although technology in terms of biometrics and de-duplication for a large database is critical. I think the challenges of this project, as in any government project, are the scale, the country wide rollout, challenges in getting everyone to get enrolled and finally leveraging the UID number for the objectives for which it was meant for.
I don't think we have an international benchmark here. The scale, objectives and larger purpose of issuing a UID number are different in India.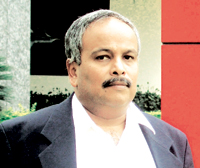 We have done several  complex projects internationally, but this is the first time that we are doing a project of this scale in India
How is your Application Maintenance Services (AMS) unique as compared to other players in the arena?
I will not like to say it is different. We do use shared services model and continuously build a library of incidents and problem solving approaches. However, in remote infrastructure management, we have a unique, innovative service delivery platform, which most companies don't have. They generally use off-the-shelf products from multinationals, while we have a product, which has been developed and fine-tuned by practicing CIOs. We guarantee a specific value benefit for anyone switching over to this platform.
How large is the AMS market in India and what is your market share?
I am not sure whether there is any accurate data on this. My guess is it would be approximately `2,000 crore. Our market share is low, as this is a very crowded market and we are a late entrant in the domestic market.
Tell us about your other IT solution offerings for the public sector, especially the enterprise solutions.
We do consulting, customised development and package implementation. We also do infrastructure management and testing services (independent verification and validation). We are very strong in business intelligence and analytics and have frameworks in this area, which can be tweaked to suit the needs of the public sector. We are a large player in the open source arena. At the same time, we are also a Gold partner for Microsoft and have specialised in collaborative solutions around their Share Point stack.
We have developed a unique stack of solutions in the video surveillance area and expect this to find ready acceptance in homeland security and also in niche areas like traffic management. We have had rare reviews on this stack, from many of the security agencies in the country.
What are some of your other government projects, if any?
We are looking at the entire UID ecosystem and looking at critical need gaps. We are also selectively targeting some of the projects in NeGP.
How do you see e-Governance in India in the next five years?
A lot more IT spending will happen, but the pace of project implementations has to go up. Governments have to think of process changes all the time, if e-Governance has to succeed. It is important to learn from best practices in different projects. UID is a good example of how well a project can be managed even if the timelines are stiff. I believe, more and more complex projects will get rolled out in next few years. India, for sure, will be a better governed country, thanks to e-Governance.
How do you foresee your company's partnership with the government sector in the coming years?
Quite good. Thanks to UID project and our track record there, we now have very good credentials in the government sector. We will leverage on the learning and expect to be a preferred partner in some of the projects.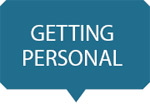 BORN ON
February 24, 1961 in
Kannur, Kerala
EDUCATION
Mechanical engineer with MBA from Indian Institute of Management, Bangalore
PASSION
Pursuit of excellence in everything I do
TURNING POINT
Joining the Indian IT industry in 1991
FAVOURITE PASTIME
Reading management books
FAVOURITE BOOK
Crossing the chasm by Geoffrey A Moore