---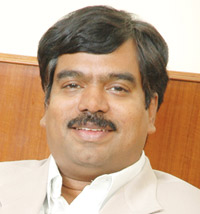 R Manikandan
Business Head
Achievements
 Major supplier of Air Conditioners to Govt. depts.
 Market leader in ACs, Washing Machines, Refrigerators, Monitors, Optical Storage Devices, Color Televisions, Microwave Ovens.
 Major supplier of Digital Signage panels to Airports in India
 Major supplier of Network Monitors for Educational purposes for SSA & other educational projects in India.
LG believes that technological innovation is the key to success in the marketplace. Founded in 1958, LG has led the way in bringing advanced digital products and applied technologies to its customers. With its commitment to innovation and assertive global business policies LG aims to become a worldwide leader in advanced digital technology. LG Electronics continues to pursue its 21st century vision of becoming a worldwide leader in digital—
ensuring customer satisfaction through innovative products and superior service while aiming to rank among the world's top three electronics, information, and telecommunications firms by 2010.
LG Electronics plays an active role in world markets with its assertive global business policy. As a result, LG Electronics controls 114 local subsidiaries worldwide, with roughly 82,000 executives and employees.
Product and Services
LG Electronics is known for anticipating the office / student's needs and changing trends of offices/ data-processing / training centers / call centers / smart classroom and has recently launched their innovative products and solutions for these. LG's Business Solution Division provides cutting-edge technology and products for all verticals and also offers innovative and state-of the-art solutions for day-to-day operations.
The company has broadened its portfolio in the IT hardware segment and has launched Award- Winning new products like the N-Series and the N-Plus Series of Network Monitors meant for PC Virtualization, new and wide range of state-of-the art LED and DLP Projectors for Offices / Boardrooms / Rural Presentations / Classrooms, etc., largest range of Surveillance Security Systems like Box, Dome, IR & IP Cameras, DVRs, VCA solutions, Access Control Systems, Blu-Ray Writers based Network Storage (NAS)etc.;
This electronics giant and market leader also manufactures a vast range of LED, LCD and Plasma Display units varying from 15.6" and going up to 65"; they manufacture units for special verticals like the Railways, Public Places, Restaurants, 3-D applications and gaming, out-door signage, video-walls (up to 5×5 matrix), media players with their SuperSign signage management software, kiosks, etc.; the company shall be launching their Video Conferencing Solutions, Interactive White Boards, Air- Purification systems and several other leading-edge products aimed towards improving the efficiency and knowledge attainment of users;
LG's Network Monitors come with an integrated electronics solution wherein up to 31 users can share a single PC in the most convenient and cable-clutter-free method, thus reducing the Total Cost of Ownership by more than 60 percent. The Network Monitors solution comes along with the LG IP-Pro software utility to help create Virtual IP addresses for each user and also the LG I-COM utility that provides the administrator / teacher remote monitoring and manageability of the users.
LG's world famous LED palm-top projectors have no parallel and are rated as the Best Buy by several magazines for their long life of more than 30,000 hours and easy adaptability with USB, HDMI, VGA ports. LG has also unveiled a whole new range of LCD Monitor TVs which come with the inbuilt TV tuner card, PIP features and offer the dual comfort of a monitor and a TV in stylishly designed models.
The company's Customer Support Services have improved manifold and the company is very focused on providing the best of support services to their wide base of customers in the commercial and corporate spheres, spread across the lengths and breadth of India. This company has excellent marketing plans and product line-ups to cater to the ever changing needs of customers, offering value-for-money products and solutions. The company shall continue to invest in the best of talented manpower and huge man-hours into their R&D, with special focus on the India-centric world-class products.
Follow and connect with us on Facebook, Twitter, LinkedIn, Elets video