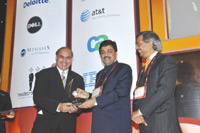 The power of Information and Communication Technologies (ICT) has been discussed widely by media, academics and practitioners alike. In the last two decades, it has changed the world as we know it. While gaps exist, ICT provides new age tools that can speed up sustainable development and enhance the overall quality of life.
Recognising the role of ICT in sustainable development, NASSCOM Foundation (NF) instituted the NASSCOM Social Innovation Honours (NSIH) in 2009 with the objective of nurturing and showcasing innovation in the use of information technology that brings about positive and sustainable social change.
In creating the platform for Social Innovation Honours, NF aims to identify projects where innovation could be in the form of both a process and a result. In looking at the process, NF aims to understand systems based on transfer and sharing of knowledge across the public, private, and non-profit sectors. For NF, a social innovation can be not only a product, a process, or a technology, but also a principle, an idea, a piece of legislation, a social movement, an intervention, or some combination of the above. NF endeavours to recognise organisations that foster these social innovations. We hope this Honour inspires creativity and imagination to bring positive social transformations for ICT in development.
The NSIH 2010 showcased innovations under the following categories-
1. ICT led Innovation by Non – Profi ts
2. ICT led Business Innovation for Development
3. ICT led Innovation through Corporate Social Responsibility
4. ICT led Innovation in e-Governance
5. Multi Stakeholder Partnership
6. Environment related project
The Honours were judged by an eminent jury of Narayana Murthy, Founder-
Chairman, Infosys Technologies Limited, T. N. Ninan, Chairman and Editorial Director, Business Standard Ltd., Rama Bijapurkar, Independent Market Strategy Consultant, Jaithirth Rao, Chairman, NASSCOM Foundation and Saurabh Srivastava, Chairman, CA India and past Chairman , NASSCOM Foundation. The following organisations were honoured at the NASSCOM India Leadership Forum held in Mumbai on 9th Feb, 2010 and the Chief Guest,  Mr. Ashok Chavan, the CM of Maharashtra honoured them:
ICT LED INNOVATION BY NONPROFITS
Health Management and Research Institute (HMRI) (www.hmri.in ) won the Honours for its unique means of reaching at-risk rural populations through a 24×7 health helpline – 104 Advice. This health contact centre offers  nonemergency medical advice, information and counselling services on the toll free '104' number

ICT LED INNOVATION THROUGH CORPORATE SOCIAL RESPONSIBILITY
a. Iris Business Services Pvt. Ltd (www.irisbusiness.com) won the Honour for creating an internet based voting mechanism through which children in the schools of Navi Mumbai could vote for the candidate of their choice from amongst those standing for election. In doing so, the company was successful in increasing awareness about the importance of voting and citizenship in a democracy amongst children in middle and high schools.
b. Multi Commodity Exchange of India Limited (www.mcxindia.com) won the Honour for it's Gramin Suvidha Kendra (GSK), a unique Public Private Partnership (PPP) model with India Post, that provides relevant information to farmers. The project brings a gamut of services under a single window. By
involving local people in the value chain GSK represents a collaborative approach that is vital when tackling pressing social problems.
c. Steria (India) Ltd. (www.steria. co.in) won the Honour for its 'community model' which engages a child right from the early school days to senior school and beyond, leveraging employee volunteers. With facilities and self learning English language software, vocational skills are an effort to provide a "Superior School Experience" for all round development of the child.
d. ITC Limited (www.itcportal.com) won the Honour for introducing viable options in the area of social and farm forestry, watershed development and wealth out of waste program. The honour recognised ITC's innovation in using technology imaginatively in improving tree cover across the country.
ICT LED BUSINESS INNOVATION FOR DEVELOPMENT
a. Educomp Solutions Ltd. (www. educomp.com). The project introduces a new approach in teaching-learning paradigms across schools in India. Educomp offers interventions, products and services to teach children in the language they understand and with multimedia that brings alive abstract curricular concepts. With the introduction of MagiKeys Software, Educomp has enabled 'Online' / 'Offl ine' ICT usage in different languages.
b. Geodesic Ltd.(www.geodesic. com and www.geoamida.com) won the Honour for GeoAmida, the world's fi rst biometric smart card enabled by a multilingual last mile platform, which reaches out to a remote customer base. The multilingual, graphical interface (display,print & speak) is designed to address low IT literacy of the users & fundamentally improve ease of use.
c. TATA Consultancy Services ( www. tcs.com) won the Honour for mKRISHI,  an innovative end-to-end platform involving mobile phones to reach farmers. Apart from giving personalised services and advice to farmers on the mobile phone, it also allows farmers to make a query in a local language.

ICT LED E-GOVERNANCE INNOVATION
a. District Administration, Kolhapur (www.savethebabygirl.com) won the Honour for the initiative "SAVE THE BABY GIRL", which tackles malpractices of sex-determination and selective abortion. Through its online entry software, the administration tracks all sonography tests done across all authorised centers in a District and thus stop the malpractice of aborting the girl fetus.
b. District Health Society, Baghpat and JP Nagar – Uttar Pradesh (www. bagpat.nic.in, www.jpnagar.nic.in) won the Honour for 'Aarogyam Kendra', a unique end-to-end community based digital health mapping programme which ensures health for the entire family at their doorstep. The innovative use of IVRS and telecommunication technologydevolves automatic call alerts/sms (in Hindi) with respect to specifi c family related information, on all aspects of child immunization, anbtenatal care, care of pregnant mothers, safe delivery, (Janani Suraksha Yojana), thereby ensuring health for the entire family with special focus on infant and pregnant/lactating mothers.
c. Information & Public Relations Department, Orissa (www.orissa.gov.in/ IandPR) won the Honour for e-Despatch, which facilitates instant communication of offi cial letters to government functionaries using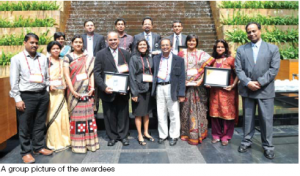 technology.
d. Jhansi Jan Suvidha Kendra, Jhansi- Uttar Pradesh (www.jhansi.nic.in/jjsk. htm) won the Honour for its completely new approach in the arena of public grievance redressal where citizens can register grievances through mobile or  landline phones. This can be done from anywhere in the district at anytime and the citizens get a quick and effective response/disposal of their grievances registered through call/SMS/Internet.

IN MULTI STAKEHOLDER PARTNERSHIP
a. Ekgaon Technologies Pvt. Ltd.( www. ekgaon.com). The project MERComs is a partnership between WOSCA, Concern World Wide India and Government Welfare Departments. MERComs is a mobile phone-based monitoring system for tracking delivery of social welfare programme entitlements to rural poor.
b. Swanchetan Society for Mental Health (www.swanchetan.org) won the Honour for setting up a 24-hour counselling service run by clinical psychologists that reaches out to victims of crimes and their families. Swanchetan works with Delhi Police, Delhi Judiciary, victims and their family

ENVIRONMENT.
Both the projects under this category, received certifi cate of appreciation.
a. India Water Portal www. indiawaterportal.org for its use of web technologies to create an important network of users and for providing access to valuable content to a larger community. The portal is rich on-line resource on water for virtual community.
b. Peer Water Exchange (PWX) www.peerwater.org for going beyond content creation and moving towards creating multi-modal expert input and support. The project is a scalable human network that can select, manage and monitor  projects needed to eliminate global safe drinking water crises.
NASSCOM Foundation would want to thank Genpact – the presenting sponsor, MphasiS –  the platinum sponsor, CNBC – the media partner, and Ernst & Young – the process validators and the jury for supporting the NSIH 2010. This has enabled us to foster innovation and help bring the immense power that ICT can bring to development for the benefi t of our country and the world at large. \\