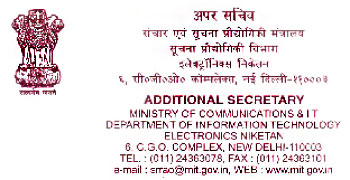 S R Rao
Additional Secretary
Communications and Information Technology,
Government of India
New Delhi- 110 003
MESSAGE

I am happy to note egov magazine, Asia's first monthly magazine on e-Governance, is coming out with first-of-its-kind directory of ICT companies and system integrators for the Government community. The directory will help in providing IT related information to government departments, public sector units, and autonomous bodies of the government and act as a ready-reckoner for the government officials, as well.
Worldwide, government agencies are conducting e-Governance initiatives through innovative partnerships with private players. Public Private Partnership (PPP) aims at leveraging private sector as a supplement to public funding apart from bringing in private sector efficiencies and innovation.  Under PPP, the role of public sector gets redefined as one of facilitator and enabler, while the private partner plays the role of financier, builder as well as operator of the service or facility. PPPs combine the skills, expertise and experience of both the public and private sectors.
The Indian government is proactively engaged in leveraging the benefits of technology. The pace of ICT adoption is also increasing to drive greater benefits to the common man. Considering these requirements, IT vendors are extending their overall support for rolling out eGov solutions.
In view of the growing role of the private sector in implementing government projects, I am sure the egov IT Directory will act as a resource guide for the concerned government agencies.
I commend the egov magazine for taking this initiative.