Inauguration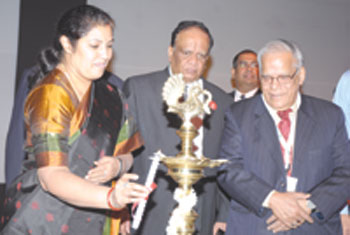 D Purandeswari lighting the lamp at the eINDIA 2009 inauguration
---
The eIndia 2009 conference was held at the Hyderabad International Convention Centre in Hyderabad from 25th-27th August 2009. This is an annual event organised by Centre for Science, Development and Media Studies (CSDMS) along with the Department of Information Technology, Ministry of Communications and IT, Government of India, in partnership with several Government agencies and departments, Civil Society Organisations, International bilateral and multi-lateral agencies, the academia, and private sector companies.   This year, the event saw 320 speakers across seven thematic tracks and more than 3,000 delegates representing more than 35 countries.
The inauguration of the event was graced by D Purandeswari, Hon'ble Union Minister of State for Higher Education, Ministry of Human Resource Development, Government of India. Other guests of honour included: Subhash C Khuntia, Joint Secretary, Ministry of HRD, Government of India; S R Rao, Additional Secretary, Department of IT, Ministry of Communication and IT, Government of India;  Reshan Dewapura, COO, Information and Communication Technology Agency (ICTA), Sri Lanka; Charles Clarke, Member of Parliament and Former Education Minister and Home Secretary; Prof V N Rajasekhar Pillai, Vice Chancellor, Indira Gandhi National Open University (IGNOU), India. Dr MP Narayanan, President, CSDMS welcomed the dignitaries and the participants. The luminaries inaugurated the event by the traditional lighting of the lamp.
D Purundeswari Devi also inaugurated the eIndia 2009 Exhibition, another popular component of the eINDIA conference, which showcased the latest e-Solutions, services, initiatives and case studies from India and beyond of more than 100 exhibitors that comprised a diverse group of professional service providers, technology vendors, consulting firms, government agencies and national and International development organisations.
In her speech, Hon'ble Minister, D Purundeswari congratulated CSDMS and its associates on a job well done in organising the international ICT summit which was a sign of India's growing role in the world ICT and development networks. She announced the launching of a National Information Highway Authority (NIHA) with the main aim of increasing various e-Activities of the government. As the apex body for such initiatives, NIHA would clear and monitor all future projects and budgets and would become an ideal vehicle to promote such initiatives effectively in a time-bound manner.
S R Rao in his speech elaborated on the potential of India's growing economy and the valuable role that IT will play in further fueling the process. He announced that it is the intention of the government to reach out to the length and breadth of the country in the next three years by connecting it through technology.
Reshan Dewapuran his speech elaborated about ICTA and eASIA2009. The eASIA 2009 brochures were presented to the Chief Guest and the dignitaries giving way to the official launch of eASIA2009 , which will be held from 2nd-4th December 2009.
Charles Clarke talked about effective strategies for bridging the digital divide. He said, "We need to join hands to bring technology to all…laptops can be made affordable and we need to ensure that we can bring one laptop each to every child. Subhash C Khuntia opined that by integrating technology in a wide array of services including health, education, governance and banking facilities, the provision of all these essential services can be made simpler, faster and more citizen friendly.
Prof V N Rajasekhar Pillai underscored the importance of IT in several sectors including skills training and improving the quality of education.  Dr Ravi Gupta, Executive Director, CSDMS and Convener of eINDIA2009 thanked the Hon Minister and the eminent dignitaries for their gracious participation.