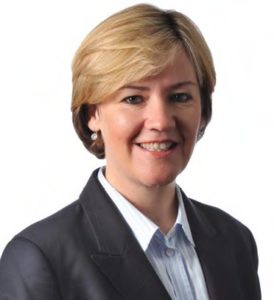 As Vice President of the Public Services group for SAP's Asia Pacifi c Division, Adaire Fox- Martin oversees the strategic direction and activities in the area of public services in the health, education and defence sectors across the region and executive relationships with customers and partners. Ms. Fox-Martin is a key member of the SAP leadership team and plays a lead role in delivering SAP's offering to public secto r customers. A respected thought leader, Ms.  Fox-Martin continues to be invited at seminars and conferences by the media and analysts to address public services issues ranging from e-Government transformation and reengineering of Government processes to public service policies. She is regularly featured and quoted in numerous publications throughout Asia and Australia. Ms. Fox-Martin has over 20 years of experience in the field of information technology and management.
Effective  e-Governance can take information technology (IT) to the common man, while helping Governments to regulate their services in line with the changing needs  f both citizens and stakeholders, as well as develop the economy. Recognizing the growing importance of e-Governance we have been bringing you a much needed, regular, interactive platform, where questions on a pre-defi ned theme are answered by Adaire Fox-Martin, Vice President, Public Services, SAP Asia Pacifi c and Japan. Most E-Governance initiatives focus on citizen services and internal effi ciencies. Perhaps, there is also a larger need to bring the long and very-long term needs into focus while developing and implementing ICT  initiatives around E-Governance. "Sustainability" of various kinds is one such framework that would provide an excellent and much needed guidance towards this end. Government and related agencies discuss the issues of sustainability in great measure and it is time that we looked at ICT as key facilitator in improving it.
What is meant by "Sustainability"?
Sustainability is the capability to endure, particularly under diffi cult, demanding and deteriorating situations. In the larger context, Governments and Policy Organizations are very keenly discussing issues of sustainability pertaining to areas like climate, energy and power, food, water and safety. We clearly see the impact of global warming and pollution; diminishing resources for generating energy; increasing population and food and potable water shortages; and, of course, terrorism and security attacks and threats. It is critical that clear management plans are put in place by the highest levels of governance to create and improve sustainability.
What does sustainability have to do with e-Governance?
Sustainability is (and in many cases should be) one of the most important items on the agenda for governance. Any effort at conceptualization and implementation of E-Governance will fall short of expectations if it does not deliver on this aspect of governance. There is a clear need for the ICT initiatives to aid and support sustainability across the spectrum. However, to achieve these, E-Governance initiatives will require new technologies that increase transparency, accountability, effi ciency, communication, and collaboration. In this context, it is imperative that E-Governance not only focuses on citizen services but also strives to provide a larger support to achieving sustainability over the period of human lives.
Can E-Governance really support sustainability? What is the best example?
In fact, E-Governance can be one of the most potent ways to support sustainability. Consider a situation where comprehensive, integrated and holistic visibility is provided to the government agencies as well as citizens about water and power availability and how they could deteriorate with increasing population or unmindful usage. Government agencies could benefi t from this in their decisionmaking process and citizens can appreciate the sensitivities involved and could be deterred in a positive way with respect to usage and consumption. While public services at large will have the crying need for sustainability, sustainability of cities offers the best need and example. Cities account for more than 80% of global economic growth and are yet at the biggest risk of sustainability from most perspectives – power, water, safety, health and transport. While international, federal, and regional organizations will retain key roles in shaping a new landscape, agencies in cities and surrounding metropolitan areas will likely be the thought leaders and change agents for safety, security, and sustainability.
What are the key ICT solutions for sustainability and who are the thought leaders?
Some of the key aspects of sustainability solutions are built around the best practices of: Sustainable and inclusive government Service excellence Intelligence- and knowledge-led strategies Informed and engaged communities,  and  Collaboration and innovation Integrated agency applications along with citizen services, case management, public security and  disaster management solutions,  intelligence and analytics applications, and capabilities of collaborations built around web 2.0 are few of the examples to  initiate sustainability  through E-Governance. Several large global IT organizations have put  out their solutions and messages around sustainability and SAP is one such global software leader. In fact, SAP's thought leadership is  unique in terms of its offerings for sustainability being fully integrated  and holistic as well as the fact that they are concretized with very specifi c solutions in specifi c areas, safe and sustainable cities being one of them. Substantive information including the thought leadership paper can be had from http://www.sap.com/industries/publicsector/ safer-and-more-sustainable- ities.epx. Besides, http://publicsector. sapbyindustry.com is a comprehensive Portal that provides valuable and contemporary information and solutions. I would highly recommend a visit to all readers. \\