eAgriculture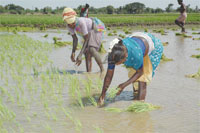 The eAgriculture India 2009 Award for ICT Enabled Agricultural Initiative of the Year recognises excellence in the field of agricultural production, agricultural marketing and agro-business with use of ICT.
Individual farmers as well as farming communities who use best practices and apply advanced technological applications to enhance agricultural output were eligible to be nominated for this award category. Individual or group of individuals who have successfully integrated modern information delivery mechanisms or innovative electromechanical tools rendering a substantial amount increase in agricultural production were also eligible for this award category.
---
Gramin Suvidha Kendra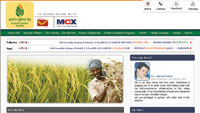 Gramin Suvidha Kendra (GSK) is a unique, innovative marketing model between MCX and India Post, which uses the principles of public private partnership (PPP) based on trust and credibility. It also works on the principle of bringing in the open markets to the doorsteps of small, marginal farmers thereby offering them a basket of services and providing very much needed market linkages. With a network of 1,55,516 post offices (with 1,25,148 in rural areas), India Post provides an un-paralleled reach and depth to take across any offering right at the doorstep of farmers. Each GSK centre is manned by a local youth, thereby giving rise to empowerment and employment. GSK aims to demonstrate how the widespread network of India Post can be synergized with MCX to cater to the need for market information, warehousing, advisory, and agriculture inputs among the Indian farming community located in far flung villages and interiors.
Achievements
The usage of existing postal network has resulted in a unique Private Public Partnership (PPP) model that showcases how corporates and government machineries can work together for the benefit of those at the bottom of pyramid

Availability of agri inputs ensures that farmers do not have to travel to marketplaces to buy them.

Apart from saving on MRP, because of not having to travel for purchases, there is an intangible benefit that translates into increased quality time spent with the family.

Highly-quality seeds, pesticides and fertilisers