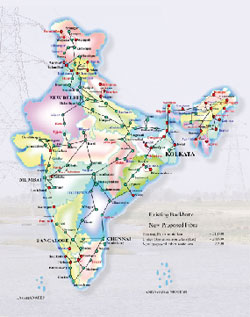 POWERTEL has the unique distinction of being the only telecom player with a country wide over head optic fibre network using Optical Ground Wire (OPGW) on its vast power transmission infrastructure making it sturdy, secure and vandalism proof. We have a network coverage of more than 20,000 Kms with multiple self resilient rings covering over 100 cities.
The DWDM  backbone network has a capability of 32 lamda capacity with scalability to Terabit capacity level and the entire network is monitored 24×7 and managed through Network Management Systems established at its National and Regional Control Centres.
Our network reliability is of 99.99% and the licenses we hold are ISP Category "A" and National Long Distance (NLDO).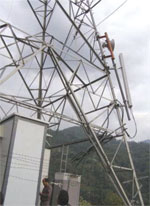 Our clientele include country's leading NLDOs, Cellular Operators, ILDS, ISPs, BPOs , MNCsand government agencies. The range of services offered by us includes provisioning of leased circuits and IP leased circuits at E1, DS3, STM1 levels and above. POWERGRID is also geared up to provide value added services such as Video Conferencing, VoIP, and MPLS based VPNs utilising its network.
The Pilot Project successfully completed for installation of GSM& Microwave Antenna on its transmission line towers which is expected to pave way for major break through for rural connectivity and e-Governance projects. POWERTEL offers its country wide telecom network to support the e-Governance initiatives of Government of India and various state governments.
Follow and connect with us on Facebook, Twitter, LinkedIn, Elets video