Indian companies currently perform most strongly for long-term economic growth and most poorly in their management of water resources.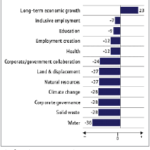 British Telecom (BT) recently announced the launch of its "Sustainable Development Index – an assessment of business performance in India". The SD index has been developed in partnership with GlobeScan, an independent  public opinion and stakeholder research company. Through a survey of senior opinion leaders across India, the index is a means to measure the performance of business in India in the progression towards sustainable development over time. The initiative was launched by Dr. R. K. Pachauri, Director General, TERI  and Allen Ma, President, BT Asia Pacifi c at a news conference in New Delhi, India.
The SD index report reveals that although Indian companies are taking positive  steps towards sustainable development, the overall performance of the  corporate sector is disappointing. 46 per cent of India's opinion leaders surveyed blame a lack of awareness around sustainable development issues as  the main cause of inaction. Some 40 per cent of opinion leaders also cited a lack of political will as a major obstacle in making signifi cant progress in this area. According to the report, this lack of action means India lags behind China, Japan and the European Union when it comes to addressing key issues, such as  tackling climate change, corporate governance practices and water resource
management.
Interestingly, the country's largest cities were seen as making the strongest 
moves to improve sustainable development practices. Whilst there are negative  views around India's progress, a majority of opinion leaders (57 per  cent) feel that companies in India are now more active with regard to  sustainable development compared to one year ago. In fact, the corporate  sector is considered to have made signifi cantly stronger progress than either  government or the general public.
Allen Ma, President, BT Asia Pacifi c said, "India is rapidly becoming a global  centre for information and communications technology development, and  boasts a high economic growth rate. It is vital that this commercial success is  matched by a commitment to, and leadership in, corporate responsibility.  Through the launch of the BT Sustainable Development Index we hope that  other organisations in India will do the same."
The most frequently mentioned corporate leaders in sustainable development in India are TATA Group (named by 31 per cent of respondents), Reliance (13 per cent) and Infosys (10 per cent).
Nitin Desai, Former United Nations Under-Secretary- General for Economic and Social Affairs and Advisor to BT's SD Index, said, "There are signifi cant social,  environmental and economic challenges facing the world's second most  populous country and India's transition to sustainable development is in the  world's interest. We need to be able to carefully monitor where corporate  successes are occurring and to learn from them. We also need to reliably know  which aspects of sustainable development most urgently require corporate action."
The BT Sustainable Development Index is annual survey of senior opinion    leaders and IT employees on the economic, environmental and social performance of Indian business.
A total of 215 senior infl uential individuals from the academic, corporate, government, media and NGO sectors were interviewed in India. In parallel, IT employees in India completed 1,168 online surveys.
Follow and connect with us on Facebook, Twitter, LinkedIn, Elets video