Health insurance in India is increasingly getting refined and redefined, with a population of more than a billion people, an upwardly mobile middle class, higher service demands and a positive investor perception, health insurance is one of the most promising growth sector of recent times. Like many other sectors Indian healthcare sector is getting ready for a long-haul, dream run for achieving excellence and capitalising global opportunities in the calling.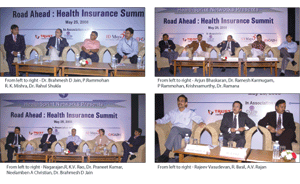 To cater to the need for stakeholders to come together and forge partnerships through knowledge sharing, HealthSprint Networks, one of India's leading healthcare exchange network, organised the "Road Ahead – Health Insurance Summit" on May 25th at Chancery Pavilion, Bangalore. The event conjured health insurance companies, micro health insurance providers, Third Party Administrators (TPAs), hospitals, corporates, clinicians and technology companies for a series of power packed sessions and panel discussions.
The Summit was designed around some of the most pertinent business issues facing the health insurance sector. With eminent professionals brought together from a cross section of business domains, the Summit focussed on issues ranging from micro health insurance financing, evolution of health insurance, standardisation, process improvements, sustainability of health insurance, healthcare and healthcare financing, patients and providers perspective, emerging needs of health insurance, role of technology in health insurance management, connected healthcare payer-provider network with innovative use of interactive sessions R.K.Mishra, Times of India's Lead India Campaign Winner, marked the beginning of the Summit with the inaugural address with an emphasis on covering 1 billion plus Indian population, he also emphasised on the Public-Private Partnership. Dr. Brahmesh D. Jain, President & Co-Founder, HealthSprint, delivered the keynote address highlighting the challenges facing the health insurance industry and the need for collaborative efforts to address the challenges.
The health insurance session was moderated by Dr. Praneet Kumar, COO, Fortis Escorts Hospital; K. V. Rao, Vice President, SKS Micro Insurance highlighted the need of empowering the poor to become economically self reliant and the initiatives being taken by SKS; Nagarajan Ranganathan, National Head-Corporate Services, ICICI Lombard, spoke about the evolution and future growth of health insurance in India; Ms. Neelamben representing Self Employed Women's Association (SEWA)-Gujarat, spoke about the challenges in processing micro health insurance claims and the strategy adopted by SEWA to reach the poor.
P. Rammohan, Managing Director and Co-Founder HealthSprint moderated the TPA Session. Krishnamurthy, CEO, TTK Healthcare Services, highlighted the need for standardisation for pre-authorisation and admission process; Dr. Ramesh. K., National Head, MediAssist India, emphasised on the sustainability of health insurance and role of all the players of the ecosystem.
The hospital session was yet another power packed session moderated by A. V. Rajan, Vice President, UTI Technology Services (Govt of India Company), starting off with an impressive presentation on consumer centricity in health insurance services. R. Basil, MD and CEO, Manipal Health Systems, underlined the need of health insurance from provider and patient perspective; Dr. K. Ravindranath, Chairman and MD Global Hospitals, said with a billion lives to be covered under insurance, there should be a focus on rural and micro insurance through PPPs. "There should be health schemes for people below the poverty line… Insurance services should be available on time, especially during emergencies." Dr. Kishore Kumar, MD and CEO, The Cradle, Bangalore, gave a lively presentation and said, "There is a need for awareness and education among the public. Insurance in India is the need of the hour and not a luxury. We have to learn from other countries and protect our future generation."
Rajeev Vasudevan, CEO, AyurVAID Hospitals, spoke about effective response to chronic illnesses, and it implications for the health insurance industry.
U. K. Ananthpadmanabhan, President, Kovai Medical centre, moderated the technology session. Dr. Rahul Shukla, CEO and Co-Founder, HealthSprint, stressed on connected healthcare payer – provider network and the role HealthSprint is playing in bringing standardisation and the need to create healthcare information system services.
Mohammed Hussain Naseem, Vice President (Healthcare Business), IBM, drawing parallels from the banking industry spoke about India National Health Data Network and the concept of an infrastructure backbone to facilitate efficient growth in the emerging healthcare ecosystem. Manish Gupta, Chief Information Officer, Fortis Healthcare, spoke about connected healthcare and collaborating to enable secure delivery of timely, accurate, electronic health information to authorised users across institutional boundaries. Mr. Zaheer, VP and Director of IDMsys spoke about Hospital ERP- an investment that will pay over a period of time.
The attendees almost unanimously expressed that the Summit was a much-needed platform for all the players in the industry. The conference concluded with valuable learnings for participants, in addition to insightful presentations and interesting panel discussions, it served as an ideal platform for collaboration and knowledge exchange.
Follow-up

Key ideas/concerns/suggestions will be incorporated in the white paper which HealthSprint will bring out, alongwith  UTI Technology services (Government of India Company) by June end. This will be shared with all the IRDA, Insurance Companies, TPAs, Hospitals, and all the participants.