Smart Technologies introduce new classroom 'Smart Audio'
Smart Technologies have introduced a new classroom audio system. Dubbed 'Smart Audio', the system provides wireless audio (using both microphones and third-party audio devices, such as MP3/4 players), along with integration with Smart interactive whiteboard systems.
The new system includes an IR receiver, ceiling-mounted IR receiver, wearable wireless microphone, handheld wireless microphone, two microphone chargers (plus rechargeable batteries), and four ceiling or wall-mounted speakers.
Other features include tone control, integrated audio mixer, and support for external audio devices, including computers, CD and DVD players, and MP3/4 players.
The system, which is also designed to integrate with Smart interactive whiteboards running Smart Notebook collaborative learning software, rolls out in August.
Centum Electronics to sponsor meals for 1,447 school kids under Akshaya Patra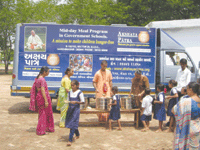 Centum Electronics Limited, manufacturers of hi-tech electronic subsystems, modules and components, has pledged support to Akshaya Patra, the world's largest school meal programme which currently feeds over 8.05 lakh children across the country every day.
Under this pledge, the company will sponsor the mid-day meals for 1,447 kids in seven government schools, for the next three years. The total cost for this is INR 17.5 lakh every year and the cumulative expenditure will be INR 52 lakh.
Akshaya Patra, which runs this mammoth school meal programme, is aided by central and state governments and private corporations. Commenting on the new addition of a major corporate sponsor, Madhu Pandita Das of Akshaya Patra said, 'To continue to feed the 8.5 lakh children everyday and also to reach its goal of feeding over a million children everyday by 2010, the foundation is very much dependent upon corporate participation in a big way.'
Apparao Maliavarapu, Founder and Managing Director of Centum Electronics said, 'We are happy to support Akshaya Patra in this noble. It is important for India to fight illiteracy and hunger as we cannot call ourselves developed unless we can feed and educate all our children'.
RapideL-i adds new template for design flexibility

RapideL-i, the internet-based rapid e-learning tool innovated by Brainvisa, has recently added a WYSIWYG (What You See Is What You Get) template for complete design flexibility.
In a constant attempt to overcome challenges faced by e-Learning developers, Brainvisa innovated the WYSIWYG template to allow users to design the page the way they like, format it as required and add any media type within that course page. This is apart from the 100 templets provided to create instructionally rich courseware.
Using this blank template, users do not have to anymore imagine or visualise the look of the output. Instead one can see it building up in front of their eyes. This means precise control over positioning of elements on the page. Moreover, one can easily add media (animations, videos etc) or insert images, tables, lists, hyperlinks etc. with just a few clicks. One can also create multi-lingual courses as this template supports a vast range of languages.
Apart from the ability to create Flash and HTML courses with RapideL-i, some other interesting features which will soon be added include the MS PowerPoint to Flash converter and MS Excel porting to create large volumes of courses offline.
CrossKnowledge-NIS Sparta tie-up for web-based training solutions in India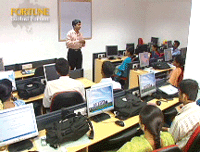 CrossKnowledge, a European eLearning major, has entered into an exclusive partnership with NIS Sparta, a Anil Dhirubhai Ambani Group company, to offer its web based distance training solutions in Leadership, Management and Soft skills throughout India.
Through this tie-up, over 200 management programmes designed under the supervision of management experts from Harvard, Standard and IMD will now be available in India.
Rishi Roy, Director, CrossKnowledge, said, 'We're thrilled to be partnering with NIS Sparta to offer our unique web based management training solutions to Indian customers. India is going through an explosive growth and the lack of qualified manpower is increasing becoming apparent and threatening to slow the country's progress. CrossKnowledge offers cost effective, efficient and effective solutions to these very problems.'
NIS Sparta President and COO Muralidhar Rao said, 'NIS Sparta has a history of partnering with global leaders in management training to bring international best practices into India. We are extremely pleased to partner with CrossKnowledge as it enables us to introduce globally recognised on-line management training in India.'
The partnership has enabled NIS Sparta to increase its repository of quality content by adding to it over 248 modules focusing on Management Fundamentals and Techniques and Personal Management Skills.
Speaking on their entry into India, Herv