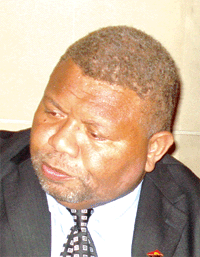 "With the e-Government initiatives, it is our aim to effectively create an alternative new channel for citizens and businesses to engage with government administrations transparently, at a faster pace, more conveniently and at a lower cost," says Patrick O. Tammur, Hon'ble Minister for Communication and Information, Papua New Guinea
Please give us an overview of the socio- politico scenario of Papua New Guinea?

Papua New Guinea is a young and vibrant country rich in natural resources and home to 6 million people and more than 800 languages. We achieved independence in 1975 and for most of the formative years, our countries experience in governance was one of a 'government-in-transit'. This is due to the political structure build around multiple coalition partners, none of them with a strong mandate to govern on their own.
This unfortunate scenario precipitated a lack of continuity in the aspects of policy and planning in the context of national development.

I am proud to say that Papua New Guinea has now managed to overcome this with the introduction of 'Organic Law on Political Parties and Candidates: this prevents Members of Parliament from 'party-hopping'.

Since then, Papua New Guinea has had a stable government led by the Hon'ble Prime Minister Rt. Sir Michael Somare, returning to power for a second consecutive term in 2007.

As a result of this stability in government, the people of Papua New Guinea are currently experiencing continuity and consistency in matters of policy, planning and national development, thereby providing us a window to address e-Governance.
How has your government harnessed the potential of Information and Technology (ICT) for better delivery of services to the citizens?

ICT is one sector that has enjoyed the benefit of a continuation of policies by the government. Much has been achieved by the current government over the past 5 years and I am pleased to share some of these achievements.

My Country Paper on the topic of 'Government Policy to Support Efficient, Effective and Transparent Governance' touches on the various policy and administrative actions and plans that we have put into place to harness the benefit from the digital revolution.

Papua New Guinea consists of largely rural communities physically divided by oceans and mountain ranges and is a challenge to the process of governance.

The government's key focus has been placed largely on physical infrastructure such as roads, schools, hospitals etc. The emergence of e-Government initiative is based largely on the key strategy of improving service delivery for better quality of life and to create new opportunities outside the spectrum of a traditional developmental processes.
What are the major e-Governance initiatives taken by your government? What benefits are envisaged from these initiatives?
The government has initiated a number of initiatives and projects to address the impediments to the introduction of e-Government.

First and foremost, was the adoption of a National ICT Policy in February this year. Subsequently, our Parliament endorsed relevant amendments to the Telecommunications Act 1996, to give effect to the ICT policy. The Policy recognises the use of ICT to secure the socio-economic benefits in the areas of education, health, national security, justice, agriculture, government administration and e-Commerce.

The Government is, therefore, embarking on a specific-Government project called the Integrated Government Information System (IGIS) to link all the government agencies to a central database.

The resulting delivery of integrated and seamless services to the citizens and business partners will provide a more efficient, inclusive and transparent governance.

Notwithstanding the study, we have also recently launched a Rural Connectivity Project at a village in the outskirts of the capital city. This village now has chosen to proudly refer to themselves as the first 'cyber' village in Papua New Guinea, where broadband Internet connectivity with Voice-over-IP (Internet Protocol) services out of a box is a reality. Moreover, three more sites are currently under development. These initiatives are largely guided by the ongoing development and progressive implementation of the National ICT Policy.

With the e-Government initiatives, it is our aim to effectively create an alternative new channel for citizens and businesses to engage with government administrations transparently, at a faster pace, more conveniently and at a lower cost.
What are the challenges to accessing ICT services by the citizens?

Access to ICT services for our people is a key objective of our government. However, access here in the Papua New Guinea context raises a number of fundamental issues, namely affordability, availability and capability. This challenge is even greater when viewed in the context of providing broadband and Internet services for 80% of our people living in the rural areas.