Digital Learning talks to Dr. Chandrakant Puri, Director, Centre for Distance Education, SNDT University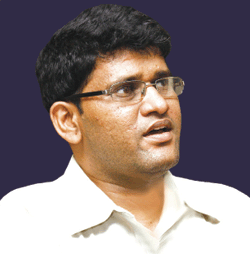 The SNDT Women's University, first of its kind in India, was established in 1916 by social reformer Dhondo Keshav Karve in Pune, Maharashtra on the model of the Japanese Women's University in Tokyo. From a single college with just five students, the SNDT university has come a long way with over 2000 teachers and more than 60,000 students enrolling every year throughout India.

The university is committed to women's empowerment through education with emphasis on higher education through relevant courses in formal and non-formal streams. It aims to provide a range of professional and vocational courses to meet the changing socio-economic needs and creating employment opportunities for women across the country.
In pursuance of its single-minded mission of women's empowerment, the university set up the Centre for Distance Education (CDE) in 1979 along with the open university programme. Over the years, the CDE (www.cdesndt.org) has made significant contribution in providing women access to high quality education, irrespective of age, region or formal qualifications, through need-based academic programmes. Every year more than 11,000 women on an average pass out of the CDE. It has introduced several new initiatives like 'Education on Wheels' and 'Mobile Education'.
Keeping pace with the IT revolution in today's world, SNDT has introduced professional IT courses in distance education. It has introduced the first diploma in BPO skills (call centre management) in the distance mode along with six technical graduate and post-graduate courses in IT.
What according to you is the essence and meaning of distance education?

We at SNDT believe that education has to be affordable, manageable, and student-friendly. Distance education is not just the physical distance between the educator and the student. It is giving education anytime, anywhere and in whatever format the learner wants. Education has to be flexible, and that is its future. Recently, we had an 86-year-old lady who was keen on pursuing education through the distance mode. Educational institutions under the distance education mode have to go beyond the buildings and make education open in the true spirits by taking educational opportunities to the community and weaker sections of society.
Can you share with us CDE's transition from conventional to ICT based learning systems?

SNDT has a strong social mandate. We aim towards the inclusion of not just techno-savvy women learners but also those who are not well-versed with the medium. So we conducted a small survey among the students to find out the facilities they have, in order to gain an idea before starting the e-learning course. The survey was done to assess the availability of computers, connectivity options and most of all the availability of electricity. And it was found that few students were ICT-enabled to undertake on-line courses, so we formulated a blended approach strategy.
Can you elaborate on the steps taken in integrating ICT in its distance education mode?

Radio was the first technology option SNDT made and programmes were broadcast through Gyan Vani channel in 2004. But there was a hurdle as the broadcast was done from Churchgate, Mumbai and its range was only 30 km. Churchgate being a high profile area was not a viable option in terms of its reach among the weaker sections of the society. So we started recording speeches and lectures series for students to have instant access to course modules. We have also used the visual media to make films and video clippings for communicating subjects like heritage management.

Apart from teaching, in what other areas of CDE functioning have you integrated ICT?

We have incorporated ICT in providing basic information to our students. Our website has an interactive forum primarily to resolve students issues and grievances. Our study material is also available in e-format and self learning mode on our website to make education accessible. Since the conventional postal mode would take almost a month to reach the students, we have a download section on our website, wherein lots of course modules have been made available.
We also have e-groups and chat rooms on our website which are very cost effective and also save time. All the teachers are part of these e-groups which are active discussion boards to help students share knowledge and ideas and also seek counselling from teachers.
Computerisation of the departments was the next step towards integrating ICT in the functioning of the CDE. We have complete information database available with us and also ensure that all student-related information is centralized. This includes sending regular updates to students on events, contact programmes, announcements and other academics related information.
In what ways have you ensured direct access of university resources?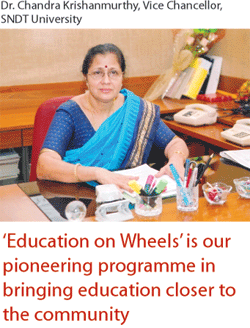 We have launched six IT programmes under the SNDT Digital University, the content for which was developed in collaboration with the six IITs. Resource made available at the university becomes a liability unless the software to access it are available with students. Since setting up labs inside the campus is not at all cost-effective and also reduces the flexibility of the learner by making it inaccessible, we plan to provide CDs and softwares to students. We have a content committee comprising experts from the subject areas and educationists, who are responsible for building comprehensive and student friendly content in the self-learning mode.
Please elaborate on the 'Education on Wheels' project.

Distance education is going to be the future. And 'Education on Wheels' is our pioneering programme in bringing education closer to the community. We have a mobile bus, equipped like a virtual classroom, which goes to doorsteps to provide education to those women who are keen on pursuing education. The bus is fully equipped with all facilities, including an LCD projector, to support lecture delivery.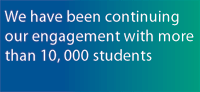 Tell us about your latest initiative.
'Mobile education' is our latest initiative in the introduction of technology at SNDT. Through the SNDT server one can log in and take the basic entrance examination. The server has a database of questions which can be used in a quiz format for conducting the exam. The students can obtain instant results on their aptitude and competency in a relevant subject. We plan to use this technology extensively for admissions for those students who want to pursue higher education from SNDT after completing schools.

We have been continuing our engagement with more than 10, 000 students and believe that education opportunity and access should reach all in the coming years with the proactive engagement of the distance mode of education.
Please shed some light on the new IT courses that CDE has initiated.

The distance education centre of SNDT has started a variety of IT courses to keep pace with the professional job requirements, the latest being a course on BPO skills. It aims to provide students skills in macro and micro scenarios of organisation and operation of a call centre. The university has also launched a series of technical courses beginning this January, which include B.Sc (IT), M.Sc (IT), BCA and MCA, B.Sc and M.Sc (Computer Science) to widen the scope of distance learners beyond traditional courses and thereby opening new avenues for the women to participate in the IT revolution.
Follow and connect with us on Facebook, Twitter, LinkedIn, Elets video