The Indian Education sector is at the tipping point and it is important for the education community to develop a unified vision to encourage education sector to look at globalisation not as a challenge but as an opportunity. The mandate at present is to prepare the Indian education sector to meet the challenge of producing large pool of students who are well equipped in various streams of knowledge and well trained to meet the expectations of globalised economy.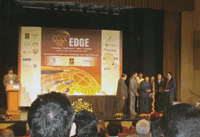 To provide new thinking and directions for the burgeoning Indian education sector, a group of government and private education institutes and organizations came together to host the three day conference – EDGE 2008 in New Delhi from March 3-5, 2008. The conference, with the theme of 'Emerging Directions in Global Education,' was inaugurated by Union HRD Minister Shri. Arjun Singh, who emphasized on making more investment on higher education and finding out the working solutions for entry and regulation of foreign institutes.  Singh said private-public partnership in higher education is a very good idea, but so far private fund has been a constraint. There is a long way to go and the key to India's aspirations (in higher education) lies in innovative thinking, teachers' training and technology. Emphasising the role of trained teachers, Singh said, only trained teachers can produce good students. 'At the same time, unless we improve our education in elementary and secondary level, we cannot improve the higher education system,' he also stressed.'The government is committed to the cause of reform, equity and quality in education. Vocational training and employability should also be our focus while imparting education,' the minister added.
The inaugural ceremony also had the presence of Rod Pryde, Regional Director, British Council India and Sri Lanka, Dr Ramdas Pai, Chairman, MEMG International India, Dr Kasturirangan, MP Rajya Sabha & Director-NIAS and Prof V N Rajasekhran Pillai, Vice Chancellor, IGNOU.
On the occasion 'India Education Vision' document was released by the HRD Minister. The vision document is the outcome of the deliberations held by members of the vision group and academic programme committee of EDGE conference shared by Dr Kasturirangan.Dr. Kasturirangan, MP, Rajya Sabha & Director, NIAS, said there were tremendous opportunities and challenges for India as the working age population from 15 to 59 years will be increasing only in India . He said there was a compelling need to learn from other countries. It was important to see how international community looks at Indian higher education.
Rod Pryde, Regional Director of British Council, described how India is becoming an important destination for higher education. There was no possibility of becoming a global player in higher education field unless one comes to India, he added.
The 3-day conference saw a plethora of industry experts from across the globe, who deliberated on the key issues like paradigm shift in technologies and its impact on the education, innovative financing solutions for education infrastructure, content development and delivery, and creation and management of human resource.
Some of the key speakers at the conference include: Anand Sudarshan, MD & CEO, Manipal Education; H.E. Sir Richard Stagg, KCMG, CMG, British High Commissioner to India ; Dr. Ramdas M Pai, Chairman, MEMG International India; Sam Pitroda, Chairman, National Knowledge Commission, GOI; Mr. William N
Follow and connect with us on Facebook, Twitter, LinkedIn, Elets video