Bangladesh building knowledge based society
Bangladesh is an emerging market for WiMAX (World Wide Interpretability for Microwave Access) technology. Bangladesh Telecommunication Regulatory Commission (BTRC) has plans to give WiMAX license in May this year, which will bring a dynamic solution to establishing long-haul data communication link to distant areas.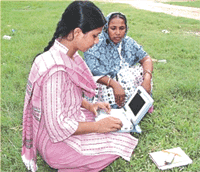 The introduction of WiMAX can be utilised to build knowledge centres across the country where people can get e-Education and related services which will effectively improve their livelihood. State-run BTTB (Bangladesh Telephone and Telegraph Board) has its Digital Data Network (DDN) node in 64 districts. Areas under these nodes can easily be connected with the internet, generating tremendous opportunity to unlock  potential in unprivileged areas.
ICT revolution in PNG
In Papua New Guinea, the development of what is known as PNGARNET, short for Papua New Guinea Academic and Research Network, is being spearheaded by universities, in particular the Divine Word University in Madang. PNGARNET, set to be soon, is a company wholly-owned by the PNG Vice-Chancellors Committee and was formed with the express purpose of facilitating the efficient cost-effective delivery of Internet services to Institutions of Higher Education (IHE) and research in PNG, so that PNG tertiary students can receive a world-class education.
All organisations which are part of the Office of Higher Education (OHE) in PNG can get involved in PNGARNET. PNGARNET is providing efficient Internet resources to its members through a satellite Virtual Local Area Network (VLAN).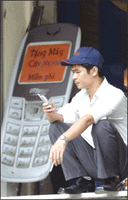 Viet Nam wired
Vietnam has made huge strides in ICT usage. As of now all communes in the country have telephone services. Over 38.8 million Vietnamese are telephone subscribers and 74% of these are mobile services. Viet Nam had 8 million mobile phone subscribers during 1995-2005. The figure was 10 million in 2006 and 17 million in 2007.
On the Internet front, 32% of all communes have Internet access and 18.9 million, or 22.7% of the population, are internet users. Vietnam has promoted the application of ICT throughout society, but with focus on e-government, e-banking, e-education and healthcare services.
The third PNG National Educational Plan offers the challenge that the universities provide a world class education to its citizens. This plan presumes that PNG tertiary students will be able to access the learning resources that are commonly provided via Internet connections, thus, PNG students must become world learners. The equipment including satellite dishes, antennae and Block Up Converters (BUCs) – a device used in the transmission of satellite signals, for the sites of the PNGARNET partners has been sourced mainly from China.
ICT and Posters in Mauritius
Students of the Teacher's Diploma course in Mauritius recently organised an exhibition of interactive posters as part of their module concerning the use of Information and Communication Technologies (ICT) in subject teaching. This exhibition of interactive posters for use as teaching aids in primary schools was organised by students of the Teacher's Diploma course under the leadership of Kaviraj Goodoory, lecturer in ICT, who is also the coordinator for the module of ICT in subject teaching.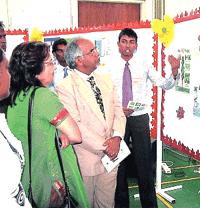 The organising committee decided to launch a competition to "encourage students to work hard" and the posters that won prizes were the 'most creative ones which would encourage pupils to use their five senses.' Meanwhile the MIE is infusing all its teacher training courses with ICT in order to prepare students to successfully use ICT when teaching their subjects. The MIE gives access to ICT to all its students and that makes it easier for them to find innovative ways of teaching. But the authorities must make sure that teachers are given the tools to be able to put their creativity into practice.
Follow and connect with us on Facebook, Twitter, LinkedIn, Elets video