The 'telecentre magazine' was launched on December 12, 2007, at the telecentre.org Village, within the Global Knowledge Partnership's GK3 event in Kuala Lumpur, Malaysia. The quarterly magazine, produced by the Centre for Science, Development and Media Studies (CSDMS), in partnership with telecentre.org, a global community of people and organisations committed to increasing the social and economic impact of grassroots telecentres.
The magazine aims to provide an in-depth review and analysis of the role of public access to technology. The magazine will raise awareness about telecentres, serving a platform for advocacy and the development of a stronger telecentre ecosystem.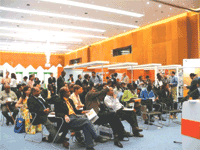 Built on CSDMS and telecentre.org's deep commitment to collaboration, the magazine will act as an interface between telecentre leaders,technology solution providers, knowledge repositories, and decision makers. It will also act as a repository of knowledge with various success stories, failures and lessons learned from the field. Ultimately, this will help in sustainability and upscaling of telecentres around the globe.
"The telecentre magazine is important because it will document and analyse the rapid and exciting advances in addressing access questions," said Dr Ravi Gupta, Editor-in-Chief and Executive Director of CSDMS. "This is part of CSDMS's commitment to build thematic communities of practice, which also includes the well-received monthly i4d magazine." he added.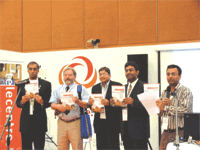 "The Telecentre Magazine responds to a long-standing demand from practitioners, investors, researchers, policymakers, and emerging market leaders," said Dr Basheerhamad Shadrach, from telecentre.org, "to have a source of information and real examples of innovative uses of shared-access technologies. This magazine highlights how ordinary people solve the problems most critical to their daily needs and lives. It creates a feedback loop that can provide ideas for new and better products."
Akthar Badshah, Senior Director, Global Community Affairs, Microsoft, Michael Clarke, Director, ICT4D, IDRC and Mark Surman from telecentre.org were present during the launch of the magazine. The magazine aims to stir in disucssions and debate, but also focus on research and analysis.
You may download the complete version of the magazine here:
http://www.telecentremagazine.net.
You are invited to send feedback, editorial ideas, and contributions to editor@telecentremagazine.net.
Follow and connect with us on Facebook, Twitter, LinkedIn, Elets video