Introduction
I attended the Global Knowledge Partnership's (GKP), Third Conference GK3, Conference in Malaysia from Dec 11-Dec 13, 2007.
The conference brought together policy makers, donors, telecoms and ICT regulators, practitioners, industry leaders, academia, civil society and private sector players in the ICT sector. The conference attendance was around 2000 participants and resembled the two earlier World Summits on Information Society events (WSIS) – albeit on a smaller scale.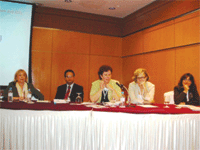 Sponsors were pretty much the same as WSIS (Swiss Development Agency, United Nations Development Programme, UN Global Alliance on ICT, United Nations Educational, Scientific and Cultural Organisation, bilateral donors such as Swedish International Development Agency, Canadian International Development Agency, International Development Research Centre, UK Department of International Development etc.) and private sector leaders such as Microsoft, Intel, Alcatel, HP, TI, Cisco, IBM, Nokia-Siemens, and many others. Colleagues from Infodev, World Bank Institute and South Asia region were participating as speakers and panelists as well to the event.
Conference Themes
The conference's main themes (all featured on  www.gkpeventsonthefuture.org) were related to societal uses of ICTs, developmental impact, knowledge economy and inclusion. The conference parallel tracks were divided into these categories:
Emerging People: Focus on the poor, isolated/rural, women and youth
Emerging Markets: For Off-shoring, ITES, media.
Emerging Technologies: Web 2.0, Mobile Government, Knowledge Management 2.0, Open Source Cross-Cutting sessions with a focus on policy, leadership, youth and gender.
Some other sessions included: Young Social Entrepreneur Forum Stockholm Challenge, World Electronic Media Forum and i4d film festival. These overarching themes were featured in a series of plenary and parallel workshops, with international and local experts and practitioners.
Evaluation forms for each of the 100 odd sessions reflected attention to the themes (specific questions on gender, youth, impact, etc. in evaluation form). Several references were made to ongoing WBG activities, such as:
The e-Lanka Project (a WBG project) was prominently featured and the Information and Communication Technology Agency (ICTA) of Sri Lanka staff/management present had a booth and were also on the several panels.
One of the project's grantees, through ICTA, received the Stockholm Challenge Award for creating Sinhalese based e-Content for primary schools, WBI work on knowledge economy and their recent  publications on Korea and other reports were well featured.
Infodev's good work on business incubation, entrepreneurship and innovation with some Infodev incubators (women incubators in China) and incubatees featured in the sessions, and in the GKP Expo.
Engagement Opportunities for Donors : Key messages
Some of the key messages include:
Large, untapped demand for assistance in ICT4D and the knowledge agenda especially in the e-Government arena.

Good opportunities for donors to rely on local knowledge sources (online newsletters, website publishers, on-line magazines all focused on ICT4D) as distribution platforms to use for knowledge sharing of our products at GICT. We should explore this option systematically.

Opportunities for CITPO to leverage country programmes to create more awareness on specific projects. Need for capacity building on m-Government services, CIO leadership training, engendering ICT projects, ITES industry and skills needed for software development industry, aligning education to job and market needs etc.

Awareness and emerging focus on critical need to include women in knowledge economy accession programs.

Great advances in rural area access are fostering innovation for the people living on the margins of networks and information societies.

Need to better coordinate the global knowledge and resources already existing in using technology for development.

Private public partnerships are no longer a novelty and there are many experiences of critical success factors on how to structure these in large scale implementations of e-Government systems (information systems, land management, GIS, insurance, healthcare, etc.)
On the financing side, the issues raised were on concerns about the financing gap, about availability of video conferencing, etc., microfinance for enterprises and incubation of businesses/ small and medium enterprises.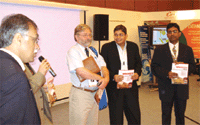 The participants felt that there is a need to cooperate and better coordinate donors programmes as we have a lot of overlap in some areas, causing unintended inefficiencies and confusion. It was informed that there is also a rise of the new donors: private sector research and development, grant facilities, foundations were represented (Gates, Development Gateway, HP, Cisco, etc.),  who also add to the complexity of donors coordination, but which presents terrific opportunity for success from a technology and skills view point.
Investors and private capita needs to be more strongly represented at this type of events which is a good business development opportunity for IFC in both investments and TA.
Pre-conference event on Women and ICTs
I also participated at a pre-conference event sponsored by the International Task Force on Women (ITF) and ICTs, during which I presented elements of  the Gender Action Plan and our ongoing thinking to mainstream gender in (a) ICT sector analytical work and (b) ICT Lending or investments operations for Global Information and Communications Technology (GICT). The conference was sponsored by the GKP secretariat and the Center for Women and Information Technology. The group's objective is to increase women's participation in the information society. Evidence has demonstrated that women's participation in the information society in rural communities and developing countries lags behind that of men, causing economic marginalization particularly for poor women with low levels of education. Evidence is also indicating a drop in women's enrollment in science and technology education. This will impact employability for women in today's labour markets,where demand is high for science and technology / ICT skills, while supply is still low. By 2010, Microsoft estimates 1.2 Million jobs in ICT sector will remain unfilled, due to shortages of skilled labour.