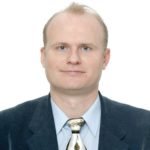 Oleg Petrov is Programme Coordinator, e-Development Thematic Group, Global ICT Department, World Bank.
What is your vision for the role of ICT in improving people's life in developing world?
Information and Communication Technology (ICT) is performing the role of universal equaliser, enabler and integrator. The most important and revolutionary aspect of ICT is their potential to shift the balance of power in the society, governance and economy towards the common people, the disadvantaged groups, the poor, the women and youth. Today, ICT can help achieve the dream of a more just, inclusive and equitable world in a most peaceful way. Hundreds of millions of lives were lost during last century alone to seek a better world through revolutions, wars and political struggle. Despite all these sacrifices, we still have poverty, inequality, corruption, and social exclusion everywhere.  Fortunately, with the help of ICT, this dream can come true much sooner without any more violence. ICT is reformer's, social entrepreneur's and innovator's best friend. We can see many examples of ICT-enabled empowerment and social inclusion achieved in the developing world over last 10 years. Human potential is being taken to the next level and I am very proud to be part of this digital revolution.
What is your suggestion towards incorporating ICT into the overall public sector reform strategy?
Today, no reform strategy can ignore the role of ICT. We increasingly live in the digital world and digital solutions are required to solve many current problems. This affects public sector as much as anything else, if not more. Public sector reform strategy, which does not take into account the digital dimension, the Internet, the mobile and other technologies will be outdated upon arrival. Why think in terms of 20th century realities when we live in the 21st century for 7 years already? The private sector understands that very well. Competitive pressures in the private sector are very strong, and are increasingly coming from the global marketplace, which is largely operating in the digital environment. Public sector agencies are less subject to these modernising competitive pressures and hence are more likely to become "dinosaurs" of the 21st century.  It is critical, therefore, to share knowledge and information between countries, between government agencies, between public and privates sectors, which can show new ways of doing government business much better than in the past and thus, create some degree of competitive pressure.
ICT should be incorporated into public sector reform strategy design from day one and not as an afterthought, as is often the case. Knowledge of the new possibilities created by ICT will affect design of the reforms. Administrative processes and public services may need to be restructured quite differently if the objective is to move them online afterwards. ICT is an entirely new dimension, which cannot be taken for granted but has to be kept in mind throughout the public sector reform cycle. It is critical that reform strategists fully appreciate the implications of the new technologies for public sector transformation. This requires that a new cadre of Chief Information/Innovation Officers (CIOs) is created within the civil service who can combine domain knowledge, strategy development and process reengineering skills with understanding of ICT.
It is also important to emphasise once again that e-Government cannot be handled outside of public sector reform agenda. One should not put the cart ahead of the horse. e-Government should be the enabler for public sector transformation, and as such it has to be an integral part of administrative reform program rather than a stand-alone initiative.
The vision of ICT-enabled citizen-centric government can be best realised by following several tactical principles: whole-of-government perspective, single window approach, multi-channel delivery, e-Inclusion-for-all, re-engineering before automation, and public-private partnerships.
The World Bank has come up with an e-Development framework, which moves beyond the incorporation of ICT segments in sector specific projects towards e-Development projects that achieve synergies by coordinated ICT investments in a number of sectors. Please tell us more about this framework.
e-Development framework is a holistic approach towards using ICT for development of the country. When we coined the term 'e-Development' we were just looking for a shorter/simpler version of ICT for development phrase to make it more understandable for broader audiences. These terms have since been used interchangeably. There is no single "official" e-Development framework used at the Bank or elsewhere.  The idea is that such a framework should include several key pillars, which are strongly interrelated and need to be dealt with in parallel and in a well-coordinated fashion. According to one classification developed by Nagy Hanna, former Bank's Advisor on National ICT Strategies, this includes (1) policy, institutions and leadership aspects, (2) access infrastructure, (3) human capacity, (4) ICT applications, especially e-Government, and (5) IT/ITES industry development. Alternatively, these can be presented in just three pillars: (1) access, (2) mainstreaming and (3) innovation/entrepreneurship. This simplified framework is used at present by the Global ICT Department (http://www.worldbank.org/ict) of the World Bank.
It has been suggested that there are so many synergies between these components that they could be best pursued as part of an integrated program or project. World Bank has been piloting this approach of integrated e-Development and e-Government projects in a number of countries, including Sri Lanka (first project of this kind), Vietnam, Ghana, Rwanda, Ethiopia, Tunisia and Romania. It is too early to say whether integrated (horizontal + vertical) approach works better than the more traditional sectoral (vertical) approach. However, one could already argue that without investing in cross-cutting areas such as human resources, shared access and delivery infrastructure, legal, institutional, policy and interoperability frameworks, sector-specific investments will not be as effective and are subject to duplication, incompatibilities and inefficiencies.
To promote the concept of integrated approach to ICT in development e-Development Thematic Group (http://www.worldbank.org/edevelopment) was created in 2003 as a global community of development professionals interested in the role of ICT.
You have been involved in promoting the ICT for development and e-Government agenda at the World Bank and in the client countries by initiating and coordinating a number of programmes and initiatives. Please tell about your experiences of e-Government implementation in the emerging economies in Asia.
I was behind the Global Development Gateway idea and the network of Country Gateways, including a number of them in Asia. I could mention Tajikistan and Uzbekistan Country Gateways as being among the more successful in this global network as the principal gateways to development information on these countries in the last 6 years.
It is also important to emphasise once again that  e-Government cannot be handled outside of public sector reform agenda. One should not put the cart ahead of the horse. e-Government should be the enabler for public sector transformation, and as such it has to be an integral part of administrative reform program rather than a stand-alone initiative
I was also part of the team, which prepared e-Sri Lanka project, first integrated e-Development project supported by the World Bank. During the project implementation phase, I coordinated the program of e-Government champions training delivered via videoconferences and workshops from May 2006 to June 2007 (http://go.worldbank.org/1ODC0UGWK0).
In March 2005, we organised e-Transformation conference in New Delhi, which brought together many e-Government officials from Asia and all over the world. Most recently, we have been connecting multi-stakeholder audiences in Asia, including India, to our 'Global e-Government Dialogues' via videoconference.
How is India placed in terms of e-Readiness, as compared to the other developing countries in the Asia-Pacific region?
India is unique in many senses, including in terms of e-Readiness. It is a country of contrasts. Some parts of the country are among cutting edge implementers of e-Government and e-Development programmes. Andhra Pradesh, for example, is world-famous for its e-Seva programme  and rural broadband initiative, both implemented as public-private partnerships. Of course, Hyderabad is one of the outsourcing and IT capitals of the world. Bangalore is yet another. On the other hand, many Indian states are falling behind in terms of ICT development overall, and e-Government readiness in particular. Therefore, overall e-Government readiness of India is rather low, according to the UN Global e-Government Readiness Report 2005, which ranks India as #87 out of 179 countries. The Union Government is trying to address this divide through the National e-Governance Plan and other sectoral programmes and I am very optimistic that they will achieve good results in the near future. World Bank is working closely with the Government of India to prepare e-Bharat project in support of the National e-Governance Plan.
Do you think India and other developing countries in the path to e-Governance, need a national CIO (chief information officer) to bring-in the change management focus and capacity?
I believe that something like this is needed in every country even though it can be called differently and have different institutional setup from country to country. What is essential is to have an office and an individual in charge of it who are empowered to coordinate and ensure quality and impact of ICT investments across the public sector or at least in the central government. Some countries chose to give more executive authority to such an office/individual, some countries preferred to give only advisory authority.  In any case, national CIO needs to be empowered to play a role of government transformation champion.
In his note on 'The Emerging Role of the National Government CIO', John Kost from Gartner Research provided a comparative analysis of 20 national CIO offices. Gartner believes that "every national government can benefit from having a CIO to help set IT policy, direct the transformation of services, coordinate IT investment and strategy, and minimise IT expenses. A CIO, regardless of the responsibility given to the position, can be successful only if the government's political leadership and senior executive management understand the role of IT and empower it for the management of IT and its effective utilisation. Creating a CIO position that is ignored or not empowered can be worse than not having one at all". I could not agree more with this statement.
The National CIO can play a unique role in transforming public sector into a joined-up, multi-channel single window government, which is both citizen-centric and citizen-driven.

How do you see the role of mobiles in government reaching out to citizens and vice   versa? Do you think developing countries need to give more emphasis towards m-Governance?
Mobile services are quickly emerging as the new frontier in transforming government and making  it even more accessible and citizen-centric by extending the benefi ts of remote delivery of government services and information to those who are unable or unwilling to access public  services through the Internet or who simply prefer to use mobile devices. In theory, many  government services can be now made available on a 24x7x365 basis at any place in the world  covered by mobile networks, which today means almost everywhere. The nearly ubiquitous use  of mobile telephony (with over 250 million mobile users in India and 3 billion worldwide and over  70% of world's population covered by mobile networks) gives this technology the potential to  make government services more accessible to vast majority of citizens.
Governments in developing countries like India should take a much closer look at the potential of  mobile technologies to enable better access to public information and services for the masses and  adjust their current strategies, programs and processes accordingly. In one recent interview, R  Chandrashekar, Additional Secretary (e-Governance), Department of Information Technology,  mentioned that up to 60% of public services in India could be provided via mobile channel. This is a  great example of a visionary approach which is critical for making m-Government happen in the  near future.
We at the e-Development Thematic Group of the Bank believe in the bright future of mobile services and therefore, recently organised a videoconferenced Global Dialogue on m-Government between audiences in 11 countries. You can access all materials:www.worldbank.org/edevelopment/mgov2
Tell us more about e-Development Thematic Group at the World Bank, which you  coordinate.
The e-Development Thematic Group (eTG) is a global community of professionals interested in the  role of Information and Communication Technologies in Development and is open for participation  and partnerships to all individuals and organiasations. The eTG is currently chaired  by Samia Melhem, Senior Operations Offi cer at the Global ICT Department (GICT), which is  hosting the e-TG team. GICT is the ICT anchor unit for the World Bank Group (including  International Finance Corporation). Previous chairs included Nagy Hanna (founding chair),  Robert Schware, Robert Valantin and Bruno Lanvin.
We try to promote effective use of ICTs by facilitating knowledge sharing on new approaches and  good practices and enabling a policy dialogue among a diverse community of practitioners to  discuss new frontiers in the ICT for development agenda and how ICT can empower societies, economies and individuals to seek a brighter future.
We conduct 5-10 'Global Dialogue' knowledge sharing events per year that bring together global  experts, client country offi cials, World Bank staff, and the development community at large in  Washington DC and other cities via videoconferencing, live webcast, and online discussions. A typical event connects 5-10 countries on 3-4 continents with 200-250 participants. Over 100,000  professionals receive information about our events. The topics cover cutting-edge ICT4D issues in  regional, country or thematic contexts, in order to equip e-Government leaders and champions in  developing and transition countries with the knowledge necessary for designing, implementing,  monitoring and evaluating successful ICT programs, projects and components. Examples of recent topics are m-Government, CIO Leadership, Single Window Government, e-Gov Strategies et al.
Disclaimer: In this interview, Oleg Petrov has shared his personal opinions which may not refl   ect offi cial position of the Global ICT Department, the World Bank and its Board of Executive Directors on these issues.