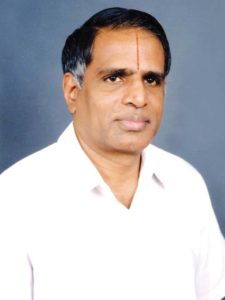 Professor S Sadagopan is the Founder Director of the International Institute of Information Technology (IIIT), Bangalore, a new generation Institute, promoted jointly by the Government of Karnataka and IT industry in 1999. Professor Sadagopan had taught for more than two decades at the Indian Institute of Technology, Kanpur, (IITK), considered to be the No. 1 Engineering School for decades and the Indian Institute of Management, Bangalore, (IIMB).
India today has perhaps the most ambitious e-Governance plan. At the highest level in the Government, there is a separate Secretary-level official, there is an approved budget of more than billion dollars at the Central Government; there are Secretary-level officials in every State Government with additional (though small compared to Central budget) budget. There are annual e-Governance conferences at the Regional, National and even International levels. Major Indian IT service majors (TCS and Wipro, for example) and MNC firms (IBM and Sun, for example) have dedicated teams to address the growing e-Governance market in India. Thanks to some early success – e-Seva, CARDS, Bhoomi, Bangalore-One and Passport office computerization, for example – there is enough media coverage – both print and electronic media – with at least two magazines devoted exclusively to e-Governance. There is an Institute  NISG (National Institute of Smart Governance) set up in public-private-partnership   model with Government  of Andhra Pradesh and NASSCOM.
Having covered so much ground one would expect the health of e-Governance to be 'pink';  unfortunately, it is far from true. Many e-Governance projects suffer from political instability  that is rampant throughout the country. A country that has one of the highest  levels of corruption, finds it easy to 'dump' e-Governance projects to the 'dustbin' taking the easiest excuse to 'justify'. With lots of money available there is more interest in 'procurement'  of expensive hardware / software / network, but hardly any interest in 'utilizing' the scarce  resources that have been acquired. India has monitoring mechanisms like CAG (Controller  and Auditor General) who check 'spending' excessively, but rarely question 'utilization'. The  net result is awards ceremony, award winning projects and huge budgets, yet no major  success stories; India's rank in most e-Governance rankings remains rather low for many years now.

The Central Problem
e-Governance can only help when there is governance! Many States have serious governance  issues; crime, violence and terror are increasingly showing their ugly heads; the nexus between 'mafia' and politicians, low-level government staff and even the general public,  coupled makes 'mafia' powerful. With weak government at the Center (thanks to coalition partners either pulling the government or threatening to 'pull out' of the governments) and  at many States, the 'mafia' are having a field day. Naturally, governance is at a record low level.
The Way Forward
One hopes that the voters will elect governments that enjoy comfortable majority and punish  the 'ayaram, gayaram' (those who comes and goes) leaders. That is badly needed for the  country, if India is to progress. Without parties with clear mandates, there cannot be strong  leaders and without strong leaders there cannot be governance.
What e-Governance can do is to utilize the 'people will' to 'immunize' projects from the  changing mood of the leaders. For example, there was resistance from the political class to the  widening of the scope of Railway Reservation system originally developed by CMC. But the  people at large (aamadmi) felt the benefit directly, and as a whole they could articulate their  desire that no political class could resist. Today, Indian Railways is the largest  e-Commerce service provider in India surpassing even ICICI bank. What other e-Governance projects like Bhoomi, e-Seva, CARD and Bangalore-One should do is to quietly 'build' the  'people support' that would ultimately make them into sustainable services available to everyone, year after year, with better features, convenience, scale and scope (the way Indian  Railway Reservation system is). Only then will e–Governance make a difference to the average citizen; after all, 'electronic' (computers, mobile devices, broadband, open source,  24×7, universal access and Indian language computing are mere buzzwords) governance is  merely a means to achieve 'efficient' government, 'effective' government and ultimately  'every citizen's' government.
Hopefully, India will reach there and that and that alone, will make India's IT professional feel  that we have contributed something to the Nation-building. When this magazine  celebrates its 10th year, one hopes Indian e-Governance would have arrived! Best wishes.
Follow and connect with us on Facebook, Twitter, LinkedIn, Elets video